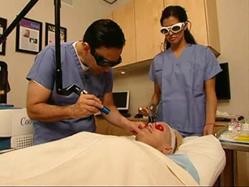 Los Angeles, California (PRWEB) June 20, 2013
According to a June 16, 2013 ABC News article, titled "Woman Burned by Facial Warns of Spa Dangers," a Tennessee woman who took advantage of an offer for a free laser facial consultation ended up with horrible, disfiguring results (Go to goo.gl/5Xcas).
"This is a truly unfortunate story," says Dr. Simon Ourian, Medical Director of Epione Beverly Hills. "A 'laser facial' is a medical treatment that must be performed by a medical professional only after the patient is first examined by a physician. Apparently that didn't happen in this case."
According to the article, the woman had a consultation for a treatment for spider veins on her face and opted to undergo a laser facial. The next day she awoke with second-degree burns. Years later, she still feels pain and experiences weird, uncontrollable twitches.
The article goes on to report that in the beginning of 2013 California Governor Jerry Brown enacted a law that heightened penalties against facilities that offer medical procedures without an on-staff physician. Offenders may be imprisoned and fined a significant amount of money. It is best for consumers to protect themselves and exercise due diligence prior to undergoing any procedure.
"It is essential for the patient to speak with a physician prior to undergoing a procedure," says Dr. Ourian. "We encourage our patients to ask questions so that they fully understand what to expect from their treatment."
Dr. Ourian has been a pioneer in laser technology and non-invasive aesthetic procedures including Restylane, Juvéderm, Radiesse and Sculptra. These treatments are used for the correction or reversal of a variety of conditions such as acne, acne scars, skin discoloration, wrinkles, stretch marks, varicose veins, cellulite, and others. More information about plastic surgery safety can be found on Epione's website.