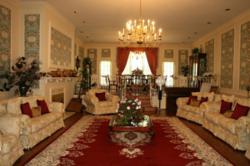 Potomac Seniors Village has beautiful homes, both inside and out. It's definitely a place I would recommend to my friends.
Potomac, Maryland (PRWEB) June 20, 2013
On March 11, 2013, Potomac Seniors Village, an assisted living Bethesda facility, held a Lunch and Tour Event. This event was held for all companies who referred residents to the senior care Maryland center. It consisted of delicious food and a tour of the current operating facility, Cedar Home, and a preview into a new facility, Maple Home, that would be opening. Potomac Seniors Village is proud to announce that the Maple Home officially opened its doors on June 15, 2013. The Maple Home of Potomac Seniors Village is a fully licensed and operational assisted living with new residents already occupying the home.
The Maple Home of Potomac Seniors Village is located at 10501 Burbank Drive in Potomac, Maryland. This home is conveniently located right next door to the Cedar Home. Both homes are owned by Potomac Seniors Village but operate as two separate units.
The Maple Home is a beautiful addition the Potomac Seniors Village family. This senior care Maryland facility offers a beautiful living space and follows the motto of providing personalized care in a home-like environment. The home consists of several private and semi-private rooms with the option for private and shared bathrooms. When residents want to come downstairs for meals or other activities, a chair-lift is conveniently installed for those who do not feel comfortable taking the few steps. Once downstairs, residents can go towards the living room to sit on the comfortable couches and watch television, play games or socialize with other residents. When it is meal or snack-time, residents can make their way into the dining area. There is a large kitchen where the meals and snacks are prepared every day. The assisted living Bethesda center also has a large, grand ballroom. The ballroom is a two-story space that is aligned with white couches and traditional décor. There is also a large wooden and glass dining table for meals. A grand piano is located in the corner of the room for professionals and residents to play.
For residents who like to spend time outside, there is over an acre of land for residents to enjoy. Whether residents want to take a walk around the driveway, explore animals around the senior care Maryland facility or just sit and enjoy the weather, the facility has ample outdoor space for residents to enjoy. There are front and back porches which allow residents to enjoy all views the facility has to offer.
The Maple Home offers the same services as the Cedar Home. These services include 24-hour supervision, a furnished private or semi-private room, laundry and housekeeping, 3 home-cooked, nutritious meals every day, unlimited snacks, television/internet, assistance with activities of daily living(e.g. bathing, grooming, dressing, toileting, eating), assistance with access to healthcare, social services, social activities, and physical assistance to residents, and administration of medications. The assisted living Bethesda center is licensed to provide level 1 through level 3 care, which ranges from minimal care to total care. Residents are able to enjoy luxurious living in a central location at an affordable price.
Although both senior care Maryland facilities provide similar services, they both differ in many ways. The Cedar Home is one level, which allows residents who are mobile to easily move around the facility. In addition, the home offers dementia care services. There is an enclosed fence behind the house, which allows residents, especially those who wander, to maintain their independence. Residents can plant seeds in the garden, take a walk around the yard, or sit on the bench and enjoy the sights and sounds of nature. For those who do not want to be directly outside, they can sit in an enclosed porch. It is enclosed with net so residents can enjoy the beautiful weather without the insects. The Maple Home has stairs, ramps and a chair-lift which allow the residents to move throughout the facility.
Both homes aim to provide the best care to residents in a home-like environment. The staff to resident ratio is kept low, so residents can receive the attention for what they need and when they need it. Potomac Seniors Village is truly a unique assisted living center because of the great care and services provided so that residents feel comfortable. The assisted living Bethesda center welcomes all parties interested in scheduling tour to visit http://www.potomacseniorsvillage.com or call 301-299-1670.