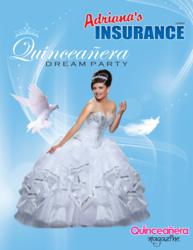 "I really enjoy giving back all the love that our customers have shown all these years". Adriana Gallardo said.
Los Angels, California (PRWEB) June 28, 2013
Adriana's Insurance along with "Quinceañera" magazine launched a campaign announcing the chance in a lifetime by winning the "Sweet fifteen" dream party. This tradition is well-known by the Hispanic community and it's the perfect excuse to gather all family members to celebrate. This birthday is celebrated differently from any other birthday, as it marks the transition from childhood to young womanhood.
This event will take place at the Huasteca Mexican Restaurant 3150 E. Imperial Hwy #100 Lynwood, CA 90262 on June 29th at 6pm. Adriana's Insurance will be hosting a red carpet to receive the "Quinceañera" and her guests.
The winner was selected between many participants at the "Quinceañera" Expo held last year aboard the Queen Mary in Long Beach. Britney Rico Perales was the lucky winner and she will have the party of her dreams thanks to Adriana's Insurance.
This is not the first time Adriana's Insurance gets involved in helping the dreams of a young girl come true. Last year, Adriana Gallardo, CEO and founder of Adriana's Insurance, supported Diana Torres, a student who came her asking for financial aid to accomplish her dreams of going to college.
Adriana's Insurance, the largest brokerage in Southern California, will continue helping good causes as its founder says: "I really enjoy giving back all the love that our customers have shown all these years." To read more about Adriana Gallardo Social work you can visit Adriana's insurance news
About Adriana's Insurance
Adriana's Insurance, the largest insurance brokerage with over 20 years of experience in Southern California, has been helping individuals, families and businesses in California find insurance policies they need at the lowest rates possible. With more than 50 locations throughout Southern California, Adriana's Insurance is the fastest growing insurance agency in all of California, and we are eager to meet all of your insurance needs. Whether you are looking for California home owners insurance, auto insurance, RV insurance, motorcycle insurance or business insurance, we can tailor an insurance plan to fit your needs. Adrianasinsurance.com