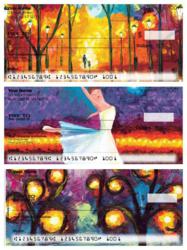 I want them to realize that anything is possible.
Orlando, FL (PRWEB) June 20, 2013
CheckAdvantage, the fastest growing online check provider in America, is pleased to announce an exclusive partnership with artist Jessilyn Park for their Licensed Artist Series of check products.
Jessilyn Park has taken the art world by storm in the mere 18 months since she began painting. This is her second art licensing deal, the first one being for Artiste Wines in Los Olivos, California.
Now, Park's distinctive style can make check writing fun again. She uses bright, "happy" colors to depict scenes of seas, cities, forests and more. The first available series of the Jessilyn Park check collection include Trees Afire, Woods of Wonder, Parkside Stroll and Seaside Serenade. Each collection includes four different paintings. To see the entire series, click here: Jessilyn Park Check Collection.
"I'm super excited to see my art on checks and address labels! Check Advantage has been great to work with and the quality of their products in unsurpassed," Park says.
Dale Ver Voort has been recruiting artists for the new CheckAdvantage program. He thinks Jessilyn Park's Art is a great addition to the lineup.
"I've found the best way to reach a larger audience is to offer a wide variety of options, because everyone has a different sense of style. When I came across Jessilyn's website the designs and colors blew me away. Her art is fresh and exciting and I am certain her selections will be popular at CheckAdvantage. There's really nowhere else you can find checks like the ones she's created," Ver Voort says.
Park began painting a little over 18 months ago after a visit with her grandmother who used to be a painter. She was inspired by her grandmother's story of how art can heal a soul. Going through some personal heartbreak issues of her own, she decided to give it a try.
Jessilyn sold her first painting on Facebook within hours of posting it. From there she sold another and another. Her career took off as she landed venues, shows, contracts, and even a wine label in California. Today, she works to bring her positive and imaginative art to all that find themselves in a hard place.
To advance her artwork, and against the advice of family and friends, Jessilyn flew out to Playa del Carmen, Mexico, for a private apprenticeship with renowned, Russian-born impressionist Leonid Afremov.
"Everyone was concerned for my safety, but I knew this was the opportunity of a lifetime," she says on her Facebook page.
The influence of the impressionist shows in her work in her vibrant colors and broad brushstrokes. Jessilyn uses dazzling hues to bring her highly stylized city and country landscapes to life.
Upon her return from Mexico in March of 2012, doors began opening. She had her art shown in Times Square in New York City, she placed in a competition at Baterby's Art Gallery in Orlando, Florida and she won a national competition and had her art selected to be on Artiste Wine's label. She flew out to Los Angeles in November for the opening reception. She's also been featured in numerous print and online magazines and newspapers across the country.
Though she began working with acrylics, Jessilyn now uses oil with a palette knife to finish her creations. This was done in part to emulate the style of her grandmother, a talented artist who lost her sight five years go. Since then, Jessilyn has hoped to tap into the talent passed down through her blood as well as create inspiring scenes for her viewers.
"I think art/music has the ability to reach within our souls and change how we feel, live and see things," she says. "Colors can enhance moods. I try to paint in colors that would inspire happiness in people."
Lately, Jessilyn has been obsessed with light sources, paths and trees. To her they represent an artistic journey. She likes to play with themes like "finding [her] way through the forest" and "walking to the light."
In less than a year, Jessilyn has gone from unknown to award-winning artist. It is her dearest hope that her message and inspiring story will resonate with the viewer.
"I want them to realize that anything is possible," she says.
Check Advantage has been in the online check business since 2001. Located in De Pere, Wisconsin, all of their checks are manufactured in the United States with the finest papers, inks, and security features available. For more information go to http://new.checkadvantage.com.