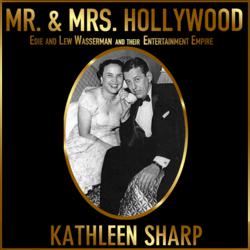 It is thrilling to bring 'Mr. & Mrs. Hollywood' to fans in the audiobook format...this story exemplifies the perfect audiobook experience.—Bob Podrasky, Senior Editor
North Kingstown, RI (PRWEB) June 20, 2013
"Mr. & Mrs. Hollywood: Edie and Lew Wasserman and Their Entertainment Empire" is available in audiobook format from AudioGO. Bestselling author and award-winning journalist Kathleen Sharp gives a rare insider look at the legendary couple who built today's global entertainment empire. Award-winning narrator Tavia Gilbert delivers this juicy tale in a rich listening experience. Sharp deftly captures these arbiters of pop culture by documenting Lew's reign as diplomat and kingmaker at Universal Studios, as well as Edie's rise as his colorful and politically shrewd partner.
In all of Hollywood history, no other partnership has left such a deep and long-running influence on the movie world as that of Edie and Lew Wasserman. Starting in the 1930s, they built MCA, the world's largest talent agency, gave rise to early television hits, transformed a broken-down film lot into the now-monumental Universal Studios, and funded dozens of kingpins and politicos.
"It is thrilling to bring 'Mr. & Mrs. Hollywood' to fans in the audiobook format, coinciding with the 100th birthday this year of both Lew and Universal Studios, as well as the tie-in to the film adaptation; this story exemplifies the perfect audiobook experience," says Senior Editor Bob Podrasky.
"Dramatic and enthralling...Lavish and extravagant...a great story," says Kirkus Reviews in a starred review. This latest release of the Wasserman story captures an enduring popular tale, which inspired a movie tie-in, the acclaimed film documentary, "The Last Mogul" (2005) which also put the biography center stage.
"Mr. & Mrs. Hollywood: Edie and Lew Wasserman and Their Entertainment Empire," by Kathleen Sharp, is read by Tavia Gilbert, and is available on Blackstone's retail site, Downpour.com.
ABOUT KATHLEEN SHARP
Kathleen Sharp is a speaker, award-winning journalist, and bestselling author whose top books have been adapted for film. She is the author of "Blood Medicine: The Man Who Blew the Whistle on One of the Deadliest Prescription Drugs Ever"; "Mr. & Mrs. Hollywood: Edie and Lew Wasserman and Their Entertainment Empire"; "In Good Faith"; "Stalking the Beast: A History of Hollywood through the King Kong Movies"; and several anthologies. She is a former correspondent for the Boston Globe and has written for several magazines, including the New York Times, the Los Angeles Times, Playboy, Elle, and Parade. She has also appeared on Book TV, ABC News, C-SPAN, and "The Armstrong Williams Show," among others, and on dozens of national radio shows and consulted on film documentaries for Turner Classic Movies, the Biography Channel, and Bravo. She lives in Santa Barbara, California.
ABOUT AUDIOGO
AudioGO, the home of BBC Audiobooks, is a leading publisher of distinctive single-voiced and full-cast dramatized audiobooks in the United States and Canada. We are the exclusive North American distributor for BBC Audiobooks, one of the most prolific publishers of complete and unabridged audiobooks and radio dramatizations in the world today. AudioGO distributes product direct to libraries across North America and to retailers via Perseus Distribution. For more information, visit our websites: Downpour.com and AudioGO-library.com.
For more information about this topic or to schedule an interview please contact:
Michele Cobb, VP - Sales & Marketing, Phone: 401-295-3812, Email: Michele.Cobb(at)AudioGO(dot)com
AudioGO | Downpour.com
Thank you for your interest.