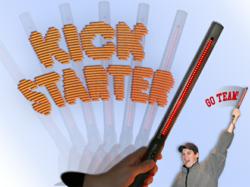 You can take the WavyWand on the road, and modify your messages on the run. It is a very unique phenomenon so people are just drawn to it.
BEAVERTON, OR (PRWEB) June 25, 2013
The original WavyWand is looking to make a comeback with streamlined manufacturing and new product features. The WavyWand creators are using the crowdsource fundraising efforts of Kickstarter to finance the redesign and manufacturing. The project can be found at http://www.kickstarter.com/projects/1919009864/bring-back-the-wavywand.
The WavyWand uses persistence of vision technology to display pre-programmed and custom images to create a powerful impact at sporting events, concerts, festivals and more. As the WavyWand is waved back and forth by the user, the 48 LEDs along the length of the wand are each individually turn on and off according to the pixels of the WaveArt (images or text) being displayed. The results are fascinating images drawn entirely out of light seemingly in thin air.
Three push buttons and an alphabet printed alongside the LEDs allow for an intuitive interface to program messages without the need for a computer. A standard USB connection however allows the user to program images and even short animations from their computer. The WavyWand is powered by three AAA batteries and is available in four colors: red, blue, green and yellow. And as if that's not enough there is even an LED flashlight built in to the tip of the wand.
"You can take the WavyWand on the road, and modify your messages on the run," says inventor Adriaan Smit. "From tradeshows and fairs it is clear that we capture an audience from 2 to 80, kids, adults, every one. It is a very unique phenomenon so people are just drawn to it."
During the campaign, the WavyWand will be available at different pledge levels, starting at $15 for your design featured on the wand, to $400 for one dozen customized WavyWands programmed with your own personal WaveArt. The funds raised will be use to update the design with the latest USB and LED technology as well as for manufacturing the first inventory. The goal of the campaign is $50,000 with an end date of July 25, 2013. The Kickstarter page for the new WavyWand can be found at: http://www.kickstarter.com/projects/1919009864/bring-back-the-wavywand
About The WavyWand
The WavyWand was created in 2005 by Robert Batten, Adriaan Smit and Tyler Shaw, who were graduate students at the time. The product was sold for several years after which they moved on to positions at various engineering companies. After many requests from users and fans they have decided to re-design and re-launch the WavyWand. Version III is sure to have an even bigger bang for your buck. Their website can be found at http://www.wavywand.com
###
Media Contact: Sara Madiuk, Sara(at)FirecrackerPR(dot)com, 1-866-317-4687 ext. 703, http://www.firecrackerpr.com