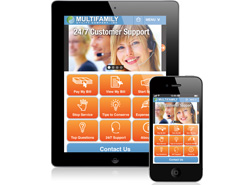 We are excited to unleash our new mobile app
San Diego, CA (PRWEB) June 19, 2013
Multifamily Utility Company, Inc., a leading utility submetering and billing company, released their newly developed mobile app for residents and managers. Continuing with their focus on customer service Multifamily Utility created this app to provide their customers with another alternative for managing their accounts and properties while on the go.
The Multifamily Utility mobile app allows residents to start and stop service, view and pay their utility bill and receive valuable conservation tips directly from their smart phone. Residents can also access their Resident Expense Management® (REM®) account and contact the live 24/7/365 customer support by pressing a single button. Managers can process move-ins and move-outs, upload utility bills, view individual meter information and contact their account manager or other support personnel with the press of a button.
Brian Stone, President and CEO of Multifamily Utility Company said that "We are excited to unleash our new mobile app to provide additional support to our growing customer base. Providing our customers with additional tools will help streamline customer interactions and will allow us to better serve our customers. Staying connected to our customers and saving them time is a vital part of our core mission."
This is the second exciting release for Multifamily Utility Company leading up to the National Apartment Association (NAA) Education Conference & Exposition in San Diego June 19-22. The NAA conference will feature a keynote session with Virgin Group Founder Sir Richard Branson, Entrepreneur Bill Rancic (first season winner of Donald Trump's "The Apprentice"), Artist Erik Wahl ("The Art of Vision"), Bert Jacobs, co-founder and Chief Executive Optimist at The Life is good Company, and other industry heavyweights. Visitors are invited to stop by booth 223 and meet the Multifamily Utility Team and see a demonstration of the mobile app.
For additional information contact:
Tiffany Mittal, Director of Sales and Marketing
Multifamily Utility Company, Inc.
Office: 1-800-329-2571 ext. 721