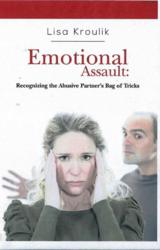 People in intimate relationships disagree all the time, sometimes strongly so. However, that doesn't give either person the right to play dirty.
Minneapolis, Minnesota (PRWEB) June 20, 2013
Emotional abuse expert and author, Lisa Kroulik, has released a new book about indentifying and confronting tactics used by emotional abusers. In the book, she discusses her experience with emotional abuse and not being spoken to for days, being blamed for everything, and being judged and shamed. She experienced these behaviors and more in her marriage to an emotionally abusive man. She stayed in the marriage for 13 years because she did not realize her ex-husband's behavior was abusive. He was not violent, so she assumed responsibility for the way he treated her. This is detailed in her new book and is common in relationships where one of the partners uses emotional manipulation on a regular basis.
After finally leaving the marriage in 2008, Kroulik began writing extensively about her experience with emotional abuse. She published her articles online, where they received approximately 100,000 views a year. Over and over, readers wrote to her expressing their relief that someone else understood their experience. This encouraged her to write the book Emotional Assault: Recognizing the Abusive Partner's Bag of Tricks, which was published by Create Space Independent Publishing Platform on May 29, 2013. The Kindle version is set to be released on June 26, 2013.
Emotional Assault empowers readers because it names their experiences: the silent treatment, projection, playing the victim, the mask of righteousness and several others. Kroulik has an uncanny way of getting into the minds and hearts of her readers to describe their everyday reality. The book is compassionate, non-judgmental and hopeful. After teaching readers how to identify emotionally abusive behavior, she walks them through the decision-making process about their own relationships. Kroulik leaves readers with the tools they need to change their lives.
Emotional Assault: Recognizing the Abusive Partner's Bag of Tricks
Paperback/ 9 x 6 x 0.2 inches/74 pages/ISBN 978-1482704891
Kindle version/74 pages/ISBN 978-1-63003-088-9 Anticipated Release Date: June 26, 2013
Available at Amazon, Barnes & Noble and the author's website.