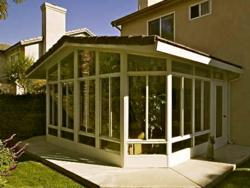 We custom-design everything we build to fit the home, the neighborhood, the homeowner's lifestyles and the homeowner's budget.
MIAMI, FL (PRWEB) June 20, 2013
Venetian Builders, Inc., has reaped the benefits of its marketing campaign through Home Depot stores with an increase so far in 2013 in Coral Gables sunrooms, patio covers and screen enclosures, the president of the Miami builder said today.
"We've seen a marked increase in sales leads in Coral Gables in 2013, due in large part to our placement of retail sales displays in two nearby Home Depot stores," Noe said. "The displays, which we designed and fabricated, were placed in the Coconut Grove and Pinecrest Home Depots. Both have attracted attention from Coral Gables homeowners."
The displays are made of actual building components, including windows, doors, insulated panels, framing and screen.
Venetian placed retail sales displays in 41 Home Depot stores in South Florida beginning in the second half of 2012 and continuing into the first quarter of 2013, Noe said.
"At this point, our sales from Home Depot leads almost equal our consumer-direct sales, until last year our only sales method," Noe said. "Our sales increase is strong in Miami-Dade and Broward counties, and especially ascendant in Palm Beach County, pushing residential sales up 150 percent."
The firm's design services make aluminum additions and screen enclosures appealing to Coral Gables homeowners, Noe said. "We custom-design everything we build to fit the home, the neighborhood, the homeowner's lifestyles and the homeowner's budget," Noe said. "Our craftsmen can finish any room to complement the home's exterior and interior."
Venetian avoids a one-style-fits-all philosophy, Noe said: "We understand that the best Cocoplum sun room isn't necessarily the best Snapper Florida room or Southeast Gables solarium. Needs differ, and so do our designs."
Over the past three months, Venetian has been installing giant code-compliant skylights in some new Florida rooms. "These translucent panels are engineered to be an integral part of the roof, so they are stronger and more storm-resistant than smaller, traditional skylights," he said. "They've been instantly popular."
Company designers also specify heavier-gauge aluminum framing in screen pool enclosures, retaining aesthetics but adding strength, Noe said. "We're accustomed to meeting and surpassing the toughest regulations of the Florida Building Code, for high-wind areas such as along lakes, ponds, inlets, bays, canals, golf courses and parks," Noe added.
Venetian serves all neighborhoods in Coral Gables, including Biscayne Bay Sea, Biscayne Bay View, Cocoplum, the Country Cub Section, Douglas, Granada, Hammocks, Hammock Oaks, Old Cutler, Pine Bay Estates, Snapper and Southeast Gables.
At-home consultations, including the Venetian mobile showroom, are free, as are written, detailed estimates.
For more information, call 866-596-2427.