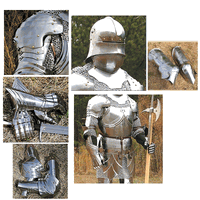 This exclusive sale promises to lighten the pocketbook for customers with an instant 15% off on all items storewide
(PRWEB) June 25, 2013
As parties are being planned and fireworks are being bought for the upcoming Independence Day celebration, Historical Clothing Realm, premiere vendor of period apparel and accessories, is also preparing to celebrate the upcoming holiday with a special 4th of July sale. This exclusive sale promises to lighten the pocketbook for customers with an instant 15% off on all items storewide, including Bargain Dungeon merchandise and new products. This discount is also in addition to the already reduced prices of 10-40% off retail prices. Customers can take advantage of this sale by attaining a coupon code immediately redeemable at checkout.
With an eclectic collection, Historical Clothing Realm features historically accurate garments with authentic designs and styles. Among them are Renaissance apparel fitting for faires and festivals, Roman gladiator and legionary costumes suited for reenactments and media productions, medieval knights and courtly reproductions ideal for play, and much more. In addition, the catalog also includes LARP gear, steampunk trends, and movie replicas from some of the most popular period blockbusters. And within this wardrobe, fashion can be found for men, women, and children.
Containing a wide array of options, Historical Clothing Realm has several interesting and unique pieces, such as the German Gothic complete set. Dating back to the Gothic era, this ensemble accurately recreates the time with this armor set. The package consists of six pieces including the German Gothic Cuirass with tasset, German Gothic gauntlets, German Goth leg armor, and German Gothic pauldrons. This bundle is an excellent value and is nice for any costume occasion and role playing.
For the females out there, Historical Clothing Realm has many dresses and other fashionable items, one of them being the Adora dress. Made of brilliant red linen, this lightweight dress nicely reflects the styles of the medieval period. It also features detachable black sleeves with red ribbon and buttons to close the front. This is a simple selection, but a stand out in appearance.
To view Historical Clothing Realm's complete catalog, go to http://www.historicalclothingrealm.com/.