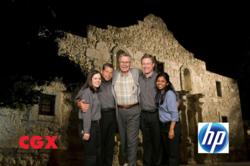 Green Screen Photography with Social Media is a great way to engage your customers.
San Antonio, TX (PRWEB) June 20, 2013
Professional Images Photography announces an updated product. Green Screen Photography that now includes Social Media to spread a Brand, message or product. Event, Trade Shows and Conventions need a way to engage a customer or attendee. Professional Images Photography new and updated Green Photography service offers custom backgrounds that can be changed out in seconds and using the latest Onsite Printing Photography printers. A guest comes to photo area chooses a background and gets a photo taken. Entering guest's email address the photo is also sent with a branded message that can say anything the client wants to share. In addition, all photos can be uploaded live in Facebook, Twitter or any social media platform.
With only seconds to engage and show a product, it is important to offer something that is different and tangible to the attendee. Facebook "Likes" go up, Twitter interaction is increased and the message is spread immediately. No longer are the days of getting the photo and that all. Professional Images Photography understands this and is constantly changing and updating the way clients want to spread the brand. During a recent event in San Antonio, TX at an Energy Convention customers were amazed at the speed of the printing and the almost instantaneous delivery of the photo via email plus the message and the contact information that was sent. The client loved it and the results and lead generation delivered were beyond their expectations.
About:
Since 1987 Professional Images Photography has been providing Conference Photography, Convention Photography, Green Screen Photography, Onsite Printing Photography and Event Photo Marketing photography services Nationwide. Based in San Antonio, TX with offices in Houston, Orlando, Washington D.C. and now in Las Vegas, NV.1.888.486.3241