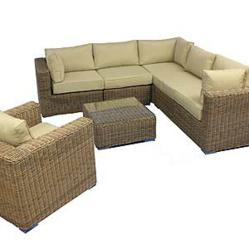 So much stock to sell...
Melbourne, Victoria (PRWEB) June 21, 2013
Outdoor Living Direct, Australia's premier outdoor furniture provider, is having their annual winter sale and it's going on right now. This is the perfect time for customers to pick up the outdoor items that they've been hoping to acquire, but just haven't done so yet. And all at special off season prices.
This sale is ideal for those looking for new garden, patio and balcony furniture, because they have the opportunity to take advantage of massive savings. It's the kind of savings that will put money in their pocket just by purchasing at such a discounted price.
All items are being heavily discounted at this time, which is perfect for those looking to take advantage of this wonderful winter sale. This is an opportunity that only comes along once a year, so if consumers want to take advantage of these massive savings, please visit their Melbourne showroom or stop by their website online at outdoorlivingdirect.com.au.
Outdoor Living Direct sells many exclusive outdoor products. Those looking for a fantastic hammock and rocker set have an opportunity to pick up this item with a massive discount. The same goes for customers looking for new outdoor protective covers, swivel chairs, pod chairs, bar chairs, bar stools, outdoor lounges and sofas, plus many more fantastic items for the outside of the home.
Although they have a large, airconditioned showroom, Outdoor Living Direct is an online business, so you can go online to check out the products for sale. But if it's something a customer prefers, they can visit the showroom on Monday through Friday from 9 AM to 5 PM, Saturday from 10 AM to 5 PM or they can visit on Sunday from 11 AM to 5 PM.
Previous customers have been delighted with their overall experience when shopping at Outdoor Living Direct. They find it very easy to deal with this company and the website and buying process is simple to follow. The friendly, expert staff ensures that no one feels confused when purchasing, and the company has made it very easy to have the products delivered right to the customer's home.
Outdoor Living Direct will keep customers informed throughout the entire delivery process. People truly love the personalised service provided by the company. Remember, Outdoor Living Direct is hosting its annual winter sale right now. It's the perfect time for customers to pick up the outdoor furniture that they have always wanted, at huge savings off the regular price. These prices are unprecedented, and with the falling Australian dollar, are unlikely to be repeated. Don't wait too long or the sale will come to an end, visit Outdoor Living Direct - Outdoor Furniture Store.