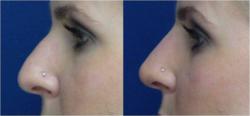 Newton, Massachusetts (PRWEB) June 25, 2013
Masha Banar, Board Certified Physician Associate, of Visage Sculpture Cosmetic Center is now offering permanent non-surgical face shaping using Silikon-1000, an off-label permanent injectable filler. Now her patients have more options when it comes to non-surgical rhinoplasty, lip and chin augmentation.
Plastic Surgeons and Dermatologists have been using Silikon-1000 for about 30 years. It was originally designed to treat retinal detachment, and in 1997 after FDA modernization act it was approved for "off-label" use for other purposes, similar to many other fillers.
Micro-drops of Silikon-1000 are placed under the skin in the area that needs to be filled. It stimulates collagen production around the droplet, so injections are done in stages, spaced several weeks apart to avoid over-injection. The risks are minimal when proper judicious technique is exercised by an experienced injector.
"My patients have been waiting for this valuable service for years and are now very happy that they have a choice to have permanent results," says Masha. "I needed to be sure it's safe and predictable before I offer it."
Masha's highly specialized practice focuses on non-surgical innovations to shape more attractive youthful faces. She is a pioneer in Boston and a go-to person to get a better more proportional nose without painful surgery and had performed this procedure on hundreds of very happy patients (featured on ABC news).
Non-surgical rhinoplasty (or nose job) involves numbing the nose with cream and injecting a filler under the skin of the nose to shape it in any way desired. Even though volume is added, it is placed strategically to create an illusion of a smaller more proportional nose. It can erase bumps, fill in divots, lift tips, and create thinner more symmetrical dorsum. Injection takes about 15 minutes and is very tolerable. Swelling goes away in three days.
Complimentary consultation can be scheduled by calling at (617)501-7055 or via e-mail. Office is located at 31 Channing Street, Newton Corner, MA 02458.
About Visage Sculpture
Visage Sculpture is premier Cosmetic Center dedicated to helping people look and feel more attractive, refreshed, and youthful in the most natural gentle way. Founded by Masha Banar, Board Certified Physician Associate, with more than a decade of experience in Plastic and Reconstructive Surgery, it has been featured on ABC News for its unique alternatives to surgical procedures.
Masha is a National Educator for Sculptra Aesthetic and teaches facial anatomy and injection techniques to Physicians and Nurses. Her extensive experience combined with artistic background and intuitive appreciation of proportions of the face brings ease to all procedures offered.