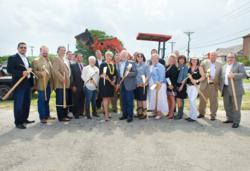 Fort Worth, TX (PRWEB) June 20, 2013
On Wednesday Victory Healthcare broke ground on the site of the future Victory Medical Center Fort Worth. The 85,000-square-foot medical facility and 50,000-square-foot medical office building will be located on a 6.5-acre site at the corner of South Main Street and Pennsylvania Avenue in Fort Worth, TX. The Medical Center will serve as an anchor in the commercial development effort to further revitalize South Main.
"We have received such a warm welcome from the Fort Worth community and are thrilled to bring a state-of-the-art medical facility that will not only provide superior personalized care, but will be an important part of the growth of South Main," said Victory Healthcare Chairman/CEO, Robert N. Helms Jr.
Victory Medical Center Fort Worth's architecture will pay homage to the heritage of Fort Worth. Special attention has been paid to the façade, including a replica of the beloved St Joseph Hospital Tower and even the historic dentil moldings that lined rooftops of the buildings of Fort Worth's past. The general contractor on the project is Metzger Construction Co. from Houston, TX with lead principle architect Kaim Associates, Inc. from Kingwood, TX and Curtis Group Architects, LTD From Dallas, TX for the core and shell.
"We are pleased to welcome Victory Medical Center Fort Worth to the city and to the Near Southside community. The team at Victory Healthcare has shown true commitment and partnership – not only in their approach to design, but also in the actions they are taking to support the initiatives at Fort Worth South, Inc.," said Fort Worth Mayor Betsy Price.
Victory Medical Center Fort Worth is an active member of Fort Worth South Inc., and continues to be involved in the Fort Worth community. Victory Healthcare was a recent sponsor of the Crowne Plaza Invitational, held at the Colonial Country Club in Fort Worth on May 20-26, 2013.
Once completed, the Fort Worth facility will include 25 patient beds, including five suites with private family quarters, and four state-of-the-art Intensive Care rooms, eight operating rooms and four special procedure rooms. The entire project is estimated to cost $70 million.
The surgical hospital will perform specialty procedures including spinal, orthopedic and general surgery as well as gynecology, urology, bariatric, reconstructive plastics, ear, nose and throat and pain management procedures.
"Victory Medical Centers offer the latest in state of the art technology and attracts the leading surgeons in their specialty, but what really sets Victory apart is our commitment to personalized service for all patients including a 1:1 staffing ratio that is not found in larger hospitals," said Mr. Helms.
As in other Victory Healthcare facilities, patients at Victory Medical Center Fort Worth will enjoy personalized care and attention in one of our private patient suites, all of which offer Wi-Fi Internet connectivity, cable television, and oversized floor plans to comfortably accommodate family and friends.
About Victory Healthcare
Based in The Woodlands, Texas, privately owned Victory Healthcare is creating the standard in surgical care through its growing network of specialized surgical hospitals, training and education centers, and the only privately held tissue bank in the state of Texas. Our surgeons are the most highly trained and respected physicians in their fields, committed to providing revolutionary technology and minimally invasive treatment techniques. We create a first class experience for our patients in our state-of-the-art facilities that include concierge services, a one-to-one nurse to patient ratio, and personalized service in an environment designed to promote comfort and healing. Victory Healthcare partners with physicians to create an exceptional surgical experience for our patients, their families, and our surgeons. Learn more about the Victory Difference – a dedication to healing through education, technology and first-class care - at victory-healthcare.com or follow us on Twitter @VictoryCor.
About Victory Medical Center Fort Worth
Victory Medical Center Fort Worth is a private surgical hospital that provides leading-edge technology and superior personalized care from the region's top physicians. Patients will experience the Victory Difference - a dedication to healing through education, technology and first-class care – at any one of Victory Healthcare's surgical hospitals. At Victory Medical Center Fort Worth, patients will receive first-class care including a dedicated nurse, private, spacious patient suites, and luxury amenities such as gourmet food Wi-Fi, high quality linens and convenient front door parking. Victory Healthcare operates in partnership with our physicians to create a new standard of surgical care. For more information, visit us at victory-healthcare.com/fortworth or follow us on Twitter @VMCFW.
# # #