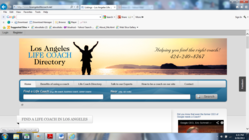 Los Angeles, CA (PRWEB) June 25, 2013
A recent article in USA Today suggests personal growth is hot and diagnosis is not. Just as there are athletic coaches, voice coaches, and acting coaches, there is now a proliferation of Certified Life Coaches. Prestigious universities such as Harvard, Yale and Duke have recently introduced coaching programs. Some 10,000 coaches of various types are working in the USA alone, according to a review in the current Psychotherapy Networker, a magazine for professionals.
Although there are lots of life coaches out there and more every day, Kevin Audley, the CEO of a local life coach directory (http://www.losangeleslifecoach.net), had a reoccurring dream a few months back – "how many people actually know what a life coach is?" According to Mr. Audley, the most common question we receive from our customers is "what is a life coach?" Your average person is very confused about the difference between seeing a therapist or psychologist and seeing a life coach.
Losangeleslifecoach.net decided to take the question a step further and do a random poll – "what percentage of practicing Therapists or Psychologists know what a life coach does on a day to day basis?" Based on a survey of 1000 Psychologists and Therapists across the United States, apparently the answer is "not very many."
One Psychologist in Seattle said "people in her field think a life coach is like a personal trainer." Another therapist in Denver said "she sees it as a quick fix and positive thinking can only take you so far."
The statistics are jaw-dropping, 90% of Therapists and Psychologists do not know or care to know exactly what a life coach does on a day-to-day basis. We can only surmise whether their responses are based on true lack of awareness about the field of life coaching or just simple refusal to adopt a coming trend in the field. Many therapists we spoke with are considering the sub-specialty of coaching in light of the fact that diagnosis and insurance are unnecessary and they can work with clients at a distance over the phone or by Skype.
Losangeleslifecoach.net is deliberately limited to only the top 50 life coaches in greater Los Angeles. "We don't accept just anyone calling themselves a life coach. We select our coaches based on practice focus, reputation and consumer ratings," says Audley. Others are Therapists and Psychologists that are professionally trained mental health practitioners who in most instances have been successful in their professional and personal life. In addition to their professional training, they have developed skills in helping individuals develop their potential and fulfill their goals.
Losangeleslifecoach.net is the only online directory to feature embedded videos of its life coaches. "Video enables our coaches to make a personal, 3-dimensional connection beyond their written bio or statement," explains Audley. In addition to videos, the website allows life coaches to reach out and "pre-sell" themselves through guest blogs. Other similar directories are due to launch in San Diego, San Francisco, Seattle, and Portland.
About losangeleslifecoach.net
The online directory losangeleslifecoach.net helps local Los Angeles-area consumers find professionals to help them make positive changes and reach their life goals. The directory is free for consumers.
Participation by professionals is deliberately limited to only 50 coaches, who offer a broad spectrum of coaching specialties such as business coaching, career coaching, life coaching, relationship coaching, money and finance coaching, etc.
The inclusion of life coach videos and guest blogs offers value for both participants and consumers. Participating coaches get unique exposure opportunities not available on other sites. Consumers get a 3-D view to help them decide which life coach will be the best fit for them.