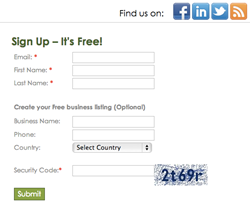 Hong Kong, Hong Kong (PRWEB) June 25, 2013
Having struggled to find an overview for the environmental industry across Asia, Ecopoint™ Asia built a specialised Green Directory just for eco-businesses in Asia. With a newly designed sign up page, Ecopoint.asia has now made it even easier for businesses to add their business listings.
Signing up to Ecopoint.asia can be done in 2 simple steps:
1. Register name, email, business name, telephone number and country and generate an automatic listing for any Green company in the Ecopoint directory.
2. The company will be sent login details via email and they must use the details along with the instructions in the welcome email to build their company profile
Benefits To All Green Businesses:
Eco-friendly businesses can now have direct access to the eco-industry in Asia through an easy to use and simple business-listing directory. Businesses can:

Create and edit their own listing, branding, upload Google map, and attachments
Advertise across the website
Write and submit articles and content to link back to their website
Advertise jobs in the environmental jobs database
Ecopoint.asia is not another green news site, it's a business directory where green businesses can look for the right expertise as well as share their experiences, resources and customers, to grow their business across the Asian eco-space.
EcoJobs
A valueable added benefit of Ecopoint.asia is the free job listings for green jobs. Businesses can advertise across the site, providing greater visibility across the environmental industry in Asia.
Being one of the only trusted places for regional eco-businesses, Ecopoint.asia, is set to become the leading eco business directory with a comprehensive set of green business listings in Asia. To learn more visit Ecopoint.asia now.