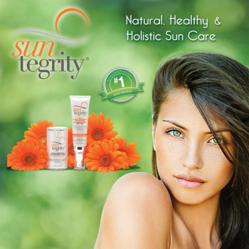 As the direction of the skincare industry shifts to focus on natural products, it is important for estheticians and spas to offer "uv chemical-free" healthy sunscreen alternatives to their clients.
Marina del Rey, CA (PRWEB) June 20, 2013
With safe sun protection being at the forefront of anti-aging skincare, Suntegrity Skincare, the premier natural sunscreen line will be a "must-visit" booth (Booth #1000) at the IECSC tradeshow. Suntegrity will offer visitors show specials, as well as live product demonstrations of all their sunscreens including their newly released 5-in-1 Tinted Sunscreen/BB Cream in Golden Light. Visitors will also get a sneak peak of Suntegrity's exciting new collections to come this Fall and Winter.
Suntegrity is excited to be an exhibitor at the IECSC, as it offers a unique opportunity to educate estheticians and spa buyers on the difference between chemical and mineral sunscreens so they can help educate their clients to make healthy decisions when it comes to daily sun protection. "At the IECSC, we are excited to offer Suntegrity as a safe alternative to the chemical sunscreens on the market. Not only are they safe and beneficial for daily use by consumers, but they are also the perfect product for use in the final steps of esthetician and spa treatments," said Tricia Trimble, Founder and President.
"As the direction of the skincare industry shifts to focus on natural products, it is important to offer "uv chemical-free", healthy sunscreen alternatives to clients," Tricia said. "In addition to offering superior sun protection, our products contain a number of ingredients that work synergistically to promote the health of the skin", Tricia added.
Don't miss the International Esthetics Cosmetics and Spa Conference (IECSC) 2013 at The Las Vegas Convention Center June 22-24, 2013. It is going to be another hot summer and Suntegrity has you covered.
Suntegrity's Top 10 Things to Know About Healthy Sunscreen Protection
1. According to the Environmental Working Group's 2013 Sunscreen Guide, just one sunburn during childhood can potentially double the chance of deadly melanoma later in life. The EWG points out that products with mineral active ingredients, such as zinc oxide, provide better broad spectrum protection against UVA as well as UVB rays.
2. Sunscreens are over-the-counter drugs regulated by the U.S. Food and Drug Administration.
3. Most people apply only half to a quarter of the recommended amount of sunscreen. Applying half the amount of sunscreen needed provides only the square root of the SPF. So a half application of SPF 30 only provides an SPF 5.5.2
4. The proper dose of chemical sunscreen is 1.2 ounces, or about a shot glass of sunscreen, to cover an average size adult body.
5. UVB rays may cause sunburns and skin cancers. UVA rays may cause tanning, premature aging, wrinkles and skin cancers.
6. Sunscreens with lots of natural plant oils and vitamin E are rich in antioxidants, which help fight free radicals caused by sun damage.
7. The SPF number refers to how well a sunscreen will protect against UVB rays only.
8. Chemical sunscreens work by absorbing into your skin (and bloodstream). Mineral sunscreens work by sitting on top of your skin. This is why dermatologists and the Environmental Working Group recommend mineral sunscreens as the safest option.
9. Zinc oxide and titanium dioxide are the only two approved mineral active sunscreen ingredients in the United States. Zinc oxide is the only single active sunscreen ingredient that provides full broad spectrum protection (from UVA and UVB rays).
10. Certain sunscreen chemicals have been shown to cause coral bleaching. Mineral sunscreens in a natural base have the least impact on the environment.
About Suntegrity:
Suntegrity Skincare is a natural, healthy and holistic sunscreen line developed by Tricia Trimble after losing her mother to melanoma skin cancer. Suntegrity sunscreens use only the best known physical/mineral sunscreen ingredient (non-nano size zinc oxide) to provide Broad Spectrum UVA/UVB SPF30 protection, along with youth-promoting antioxidants to help with skin repair. Suntegrity never uses synthetic chemicals, fragrances, or parabens in their formulas. For more information, visit SuntegritySkincare.com.