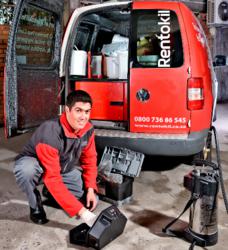 A rodent infestation can quickly get out of control - Rats and mice spread diseases, contaminate foodstuffs and create negative word of mouth.
Cape Town, South Africa (PRWEB UK) 24 June 2013
Business owners need to be even more vigilant of rodent infestations in winter, or risk the reputation backlash and physical damage to their business that they can cause. According to Mario Pluke, Technical Manager for Rentokil South Africa, rodents – especially rats and mice – appear to be more prevalent in the colder months as they seek refuge indoors, looking for both shelter and food. "A rodent infestation can quickly get out of control. In ideal breeding conditions - within a period of a year - a single pair of mating brown rats can result in a rodent population of 2000. Female rodents are capable of giving birth to between five to 10 offspring more than four times a year and that offspring is ready to reproduce just three months after birth. Businesses should definitely start preparing for potential rodent infestations in winter and have adequate rodent control programs in place."
The most common pest rodent species in South Africa are the brown rat and the house mouse, both of which are widespread throughout South Africa's more densely populated areas. Rodents are nocturnal and build their nests in wall cavities, under floors, in roof spaces and close to areas where they can scavenge for food and water. Rodents are known to spread infections such as Salmonella, Weil's disease, E.coli, Tuberculosis and Hantavirus by leaving infected urine or faeces in places where people can come into contact with their leavings, such as kitchen counters, food preparation and storage areas and rubbish. This is one of the main reasons why rodent control is so important.
The effect of a rodent infestation can therefore be more serious for businesses serving or selling food because of the risk of contamination of foodstuffs. However businesses with large storage areas should also beware of rat and mouse problems and the effects they can have on their businesses. These areas allow rodents food, shelter and nesting sites during winter and the presence of rodents will not only contaminate stock, but will also cause physical damage to stock and property. This is because rats need to gnaw continuously to grind down their incisors, which grow about 11 – 14cm per year.
Beyond just the physical consequences of a rodent infestation, there are the business consequences to consider as well. For businesses selling food, Regulation 962 – General Hygiene Requirements for Food Premises and the Transport of Food – states that no food should be handled on premises without a valid certificate of acceptability issued by the environmental health practitioner. Adequate pest control procedures are a prerequisite of this certificate. Added to that, word of mouth is extremely powerful and no business wants customers or staff spreading news of a rat or mouse problem on the premises.
Signs that indicate a rodent problem are the presence of small, dark droppings (particularly alongside walls or in enclosed areas such as cupboards or under sinks). Rat droppings are sausage shaped, approximately 1 -2 cm long and mouse droppings are thin, spindle shaped and approximately 5mm long. Rodents also have a distinctive, ammonia-like smell that is particularly strong in enclosed areas. Damaged stock and damage to the fabric of the premises caused by gnawing is another clear warning sign, as is finding shredded materials such as newspaper, cardboard and fabrics which is being used as nesting material. Finally, if you notice greasy smear marks along skirting boards or walls – caused by rodents as they repeatedly brush up against objects – it's time to think about calling in the professionals before the rat and mouse problem becomes hard to control.
The first defence in getting rid of rats is adequate proofing of your premises. Young rats can get through holes of less than 1cm, so it is important to seal any holes and fit bristle strip around doors. Rats can come up from sewers through broken pipes, so it's important to ensure that all pipe-work is in good order. Hygiene and housekeeping should be a key focus with thorough, regular cleaning taking place frequently to avoid a rodent infestation. Rentokil offers free pest awareness training to businesses, teaching housekeeping staff what signs they should look out for. If staff do spot a rodent on the premises it is essential to seek professional advice to get rid of rats immediately.
Rats come indoors in search of food and harborage, so it is important not to attract them with easily accessible food sources, such as food waste in kitchens and stock rooms, or with nesting materials such as discarded packing materials or old newspapers. Crates and boxes should be stacked 70cm away from the wall to ensure you can check what's behind them.
To exercise rodent control outdoors, ensure rubbish bags are put inside bins, and that bins have well-fitting lids. If you have already eliminated all potential food sources and you still have a rat problem, it's best to call in a professional pest control organisation. They will arrange for immediate control with rodenticides (rat bait) handled by qualified technicians, and will be able to offer rodent proofing and design advice. They will also schedule regular rodent control visits to prevent further outbreaks. Rentokil recommends setting up a contractual relationship with your chosen pest control provider - rather than hiring them on a reactive basis - to ensure there is no risk of recurring infestations.
About Rentokil Initial: The Rentokil Initial group specialise in pest control, hygiene services and interior landscaping for businesses across the globe. Using leading-edge, environmentally-friendly technology, their experts deliver a wide range of tailored services to businesses of all kinds. Read more about Rentokil's rodent control service, or to arrange a free survey of your business, contact Rentokil Initial on 0800 77 77 88 .