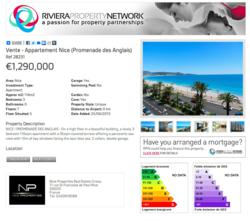 The need to continue our global reach is evident because of the clear demand.
Nice, France (PRWEB UK) 27 June 2013
Nice Properties Real Estate Group increases its reach to international markets and investors by joining the Riviera Property Network portal that houses 160 international agents in major investing countries such as China, Dubai, Russia, Hong Kong and Scandanavia.
Nice Properties' move to heighten their global digital marketing efforts comes as a direct result from a recent surge in Russian and Scandanavian clientele and Chinese investors looking to invest in secondary vacation properties on the French Riviera.
Commercial Director, Michael Fusaro, explains, "We normally expect a stronger presence in the beginning of the summer season with clients looking to buy second vacation homes; however, the significant increase of inquiries from the Russians and Chinese came earlier than expected."
Fusaro further adds, "We have been diligent with strengthening our international marketing platform recently, even adding a specific Russian management team to our staff. The need to continue our global reach is evident because of the clear demand."
With the significant number of international agents that are a part of the Riviera Property Network, Nice Properties hopes to increase its current presence on the international real estate stage and agrees that strong network partnerships yields better bi-lateral business opportunities.
Emma Jones, Sales & Marketing Director for Riviera Property Network states, "Riviera Property Network is delighted to welcome Nice Properties to RPN Property Portal and network. As one of the fastest growing real estate agencies in the region, RPN is confident of the value and benefit Nice Properties will bring to all our partners, regionally and worldwide."
About Nice Properties Real Estate Group
Nice Properties is the French Riviera's leading real estate group specializing in the sale of luxury villas, vacation homes, apartments, commercial real estate and new build programs. They have the most effective professional multi-lingual network of real estate professionals with six offices along the Cote d'Azur from Cannes to Beaulieau and 2 specialized departments for New Build and Commercial real estate, providing an efficient and seamless platform for the best real estate opportunities and investments on the French Riviera. To find out more information about the best properties for sale or for seasonal rental on the French Riviera, please visit our website: http://www.nice-properties.com.