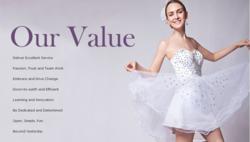 (PRWEB) June 20, 2013
Dresses1000.com has always been known as a reliable wedding dress company. Today, the firm releases its new designs of wedding dresses, and announces a special offer on these new dresses. According to Sherri Wang, CEO of the company, the promotion will end on June 30, 2013.
Dresses1000 is devoted to developing a cutting edge solution for a memorable wedding. Customers can always feel that quality doesn't always come with high prices, and they don't need to worry about their budget at Dresses1000.com, because the dress prices here are much lower than those at other stores, while Dresses1000.com's quality is similar to that from a retail shop.
"We are happy to launch the promotion and make our innovative designs available to more clients. The exquisite wedding dresses from us have been carefully prepared for a long time. They are specially deigned to make you look stunning on your big day. We try to meet the requirements of each young lady," says, Sherri Wang, CEO of the company.
In addition to cheap wedding dresses, there are many fashion tips on their website for dressing up wedding dresses to stand out from the crowd. Dresses1000's goal is to have the most user friendly shopping experience for designer dresses online. Those who are looking for special-occasion dresses (Quinceanera dresses, and little girl pageant dresses, etc.) can own their favorite dresses with some clicks of a mouse now.
About Dresses1000
Dresses1000 is an award winning dress company offering many stylish and high-quality women dresses to each customer. Dresses1000 is proud to provide quality dresses to customers worldwide with an unbeatable service and convenience. Its staff is certified and insured to ensure customers receive the most unique and professional outfits with fast delivery.
For more information, please visit: http://www.dresses1000.com