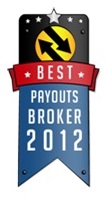 We believe that Binary Options provide a real alternative to the more mainstream forms of betting on the markets and it's in their simplicity that they really stand apart
Douglas, Isle of Man (PRWEB UK) 20 June 2013
The UK market has always been enamoured with Spread-betting and Forex trading however the number of traders now trading Binary Options has risen by more than eight times since 2011. In many respects this could be down to the confidence or lack of, many individuals feel in the current climate and who now want to mitigate risk in their trading activity by ensuring they cannot lose more than their initial trade value.
Binary Options platform MarketsWorld believes many new customers are attracted to Binary Options for this reason "We believe that Binary Options provide a real alternative to the more mainstream forms of betting on the markets and it's in their simplicity that they really stand apart" says Bruce MacLean, PR Manager of MarketsWorld, he goes on to say "by giving customers a simple no nonsense choice of whether the price of a particular asset will go up or down, it gives them the chance to properly concentrate on what they are doing, as the risk and reward are completely transparent from the outset."
Binary betting has a wide appeal due to their fixed odds (and knowing what the maximum profit might be and loss from outset) and are used by novices and experts alike. Binary Options work simply by awarding winning trades with a payout of between 60%, up to MarketsWorld industry leading levels of 95% and if the prediction is incorrect then the original stake is lost, no more. This broader approach removes one of the most difficult aspect of options trading – the precise movement of an asset and is clearly why Binary Options are becoming so popular.
In a similar way to betting on sport events, financial binary betting lets traders stake a certain amount on certain events without needing to look at specific movements. As soon as the bet is placed, individuals can see the maximum they stand to gain or lose and simply have to wait for the expiry to know the result. Using sports as an analogy, if you pick the winning football team you win, you do not have to guess by how many goals the team will win with which is more like options trading, where you have to be right about both the end result and by how many. With binary betting you just simply choose up or down to get a result.
Bruce MacLean adds weight to the Binary Options argument "MarketsWorld is licensed and regulated by the GsC based on the Isle of Man, British Isles. This strict regulation ensures our customers receive 100% transparency, what they see is what they get. Binary Options do not have a spread or execution fee, however the industry is plagued by poorly regulated and in some cases un-regulated operations and therefore there is a lot of scepticism surrounding Binary Options. We at MarketsWorld hope that the industry gets a better reputation through more companies promoting a fair and regulated Binary Options product, such as the MarketsWorld platform. It is clear that the demand for Binary Options continues to build and the industry needs to move with it, in our opinion this can only be done with the correct regulation in place."
MarketsWorld are now offering new customers welcome bonuses which include, a $50 free trade and 100% Cash Match on first deposits.