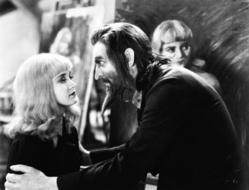 Can you hypnotize a woman to murder, or is it only limited to just raping her?
(PRWEB) June 22, 2013
HypnotherapyGuide has launched two new services to tackle the problem of charlatans and frauds and clean up the image of hypnosis.
The world of hypnosis is shrouded in mystery. When we think of hypnosis we imagine a tall, mysterious man draped in a black cloak, passing his pocket watch to and fro over the heavy eyes of his young, attractive, female victim as she hopelessly tries to escape his power, only to finally submit herself to his seductive gaze and lose all control.
But that image is about to change.
The first initiative is a hypnotherapist directory and guide http://www.hypnotherapy-guide.com, boasting over 8000 qualified hypnotists all registered with a professional body who adhere to their strict code of conduct.
The second initiative is a hypnosis information center, http://hypenosis.info, hosting articles, facts and scientific studies.
"When I would tell people I'm a hypnotherapist, people would recoil in fear." says the founder, "It's quite funny to watch, it's like you have some supernatural power over them, but it's simply not true."
A brief history of the hypno-hype:
The hype started with Franz Anton Mesmer, the source of, 'to mesmerize'. He believed in a universal life force called animal magnetism which could be harnessed by magnets. Magnets were fashionable at the time and there was hope it would solve life's problems.
Hypnosis was born around seventy years later in 1841 when surgeon James Braid showed he could do the same as Mesmer without magnets, mesmerism was just the imagination and he called this hypnosis. That was over 150 years ago, but even today people are still buying into healing magnetic bracelets.
'Can you hypnotize a woman to murder, or is it only limited to just raping her?' was the topic of debate between the leading scientists during the 19th century, causing a heated conflict between schools of thought which the media loved. Hypnotherapists Sigmund Freud and Tourette (Tourette's syndrome) belonged to the school of the 'only rape' opinion but then a woman shot Tourette in the head, claiming to be under hypnosis. Not a good image for hypnosis.
You can read more about the history of hypnosis at http://hypenosis.info/history-of-hypnosis.
Today science dispels these myths and proves hypnosis is safe and real, but the internet is still filled with horror stories and fringe topics, such as; eroticism, forced feminization, female domination, seduction, manipulation, past lives, psychic powers, and miracle cures. "It's popular because it is fantastical but it takes away from the legitimacy of mainstream hypnosis."
"From the beginning of man, people have always been fascinated with the supernatural. We want to take away the hype from hypenosis and education is the key. If we want to clean up the image, we must weed out the bad from the good and the lies from the truth, and that's going to upset a lot of people."
This press release can be found at http://hypenosis.info/press-release.
Media Contact:
Email: info(at)hypnotherapy-guide(dot)com
Website: http://www.hypnotherapy-guide.com