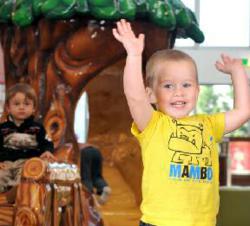 We're very excited to partner with Mirvac to bring the PLAYTIME experience to Australian families.
Denver, CO (PRWEB) June 21, 2013
"Mirvac is leading the way in offering high-quality amenities to its patrons by installing the first two PLAYTIME play areas in Australia," says Grant Sonju, PLAYTIME's International Business Development Manager. "We are excited to introduce our mall playgrounds to Australia."
The Springfield News covered the grand opening of the play area at Mirvac's Orion Springfield Town Centre and quoted Melanie Hodge, Center Manager, who said: "We've been keeping an eye on PLAYTIME and have been working with them for the past year to get it. This is a part of us improving the amenities for families after we found through our research that there are a lot of families with younger children in the centre.''
The indoor playground at Orion Springfield, which is located in Queensland, boasts a nature theme with a pine tree, turtle, bridge, butterfly and fish on which children can romp.
Danielle Dunsmore, Orion's Marketing Manager, says that, prior to their grand opening, she had only been able to see PLAYTIME's products in magazines and that she had been hoping to offer a play area to her guests.
Mirvac's Broadway shopping center, located in Sydney, unveiled its play area on May 3. The Broadway center's indoor play area looks like a magic garden with candy-colored tunnels and whimsical mushrooms that children can climb on, tunnel through or slide down.
Since the play areas opened earlier this month, both shopping centers have noticed an uptick in traffic. Additionally, sales at nearby retailers have increased.
To install the play areas, both centers worked with Ride On! Entertainment, the Australian distributor for PLAYTIME. Dale Smorgon, owner of Ride On!, says it was exciting to bring PLAYTIME's products to Australia for the first time.
"PLAYTIME is the global leader in commercial soft playground equipment and Ride On! is excited to represent their products in Australia," says Smorgon. "I believe my fellow Australians will be seeing more of PLAYTIME's fantastic mall play areas soon!"
PLAYTIME's Founder and CEO Mike Evans was excited to welcome Australia to the company's growing list of global playgrounds, including commercial soft play installations in all 50 states and 20 countries.
"Family-friendly businesses that want to stand out hire PLAYTIME to create powerful play experiences," says Evans. "We're very excited to partner with Mirvac to bring the PLAYTIME experience to Australian families."
Mirvac Retail operates a broad range of retail properties located across Australia including 18 shopping centres across the Australian Eastern Seaboard. For over 40 years, Mirvac has produced some of Australia's most renowned retail projects including Orion Springfield Town Centre, Broadway Shopping Centre and Rhodes.
PLAYTIME, LLC is a commercial playground manufacturer headquartered in Denver, CO. It is the global provider of unique, interactive, soft play areas and playground equipment for indoor, outdoor and water play.
Ride On! Entertainment is the Australian distributor for Playtime. Ride On! is a global market leader in coin operated children's rides, operating a fleet of more than 3,500 rides and carousels in more than 700 leading shopping centres and retail locations across five countries. For more information about Ride On!, contact Dale Smorgon on (0419) 513552.