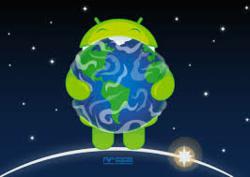 (PRWEB) June 20, 2013
Android Application Development is unique and it utilizes an open source platform based on Linux. This provides a wealthy development environment and access to core mobile functionality through the use of standard API labels. These features greatly enable marketing, publishing, and promotion of the custom software and mobile services.
The Android platform abbreviates the process of development with built-in API efficiencies which allows the company to pass savings on to the clients. This helps to support the development of mobile applications in a simplified development environment. Our team of mobile application developers has years of experience using java language and android framework to port to mobile devices as an active testing stimulator. Android does not distinguish between the phone's heart applications and moderator applications. Also, Android offers rich support for its core library for developers to build third party applications. In effect, this has opened up a huge area of potential development such as:

Communication Application
Office/Business application
Multimedia Application
Travel Application
Internet Application
Fun and games Application
Utility application
Security applications
Location based tools
Dev IT Solutions has been in the mobile application development industry for more than 7 years and have developed various Educational Mobile Applications on iOS & Android Platforms. The team of programmers, developers and Project Managers in the company has quickly developed high levels of proficiency to address a diverse set of needs. The team is skilled in developing core Android applications such as email clients, maps, calendar programs, browser, contacts, and other common applications written in Java. The company is always willing to help clients by using the expertise of the developers and probing the client, for clear and better understanding, before starting the project. Following this method has resulted into long and enduring relations with clients all over the globe.
For more details please visit http://www.devitsolutions.com/devitmobileapplication/.
About Dev IT Solutions
Dev IT Solutions is one of the leading companies providing cutting-edge solutions for Mobile Application Development on various platforms. It has a dedicated team for Development of Mobile Applications i.e. iPhone Application Development, Android Application Development, Blackberry Application Development and Window Mobile Application Development.
Contact:
Dev IT Solutions Pvt. Ltd.
A-302, Shapth Hexa, Opp. High Court
S.G. Highway, Sola - 380060
1-760-621-3474
Email: info(at)DevITSolutions(dot)com
iPhone, iPad are trademarks of Apple Inc., Android is a trademark of Google Inc., Blackberry is trademarks of RIM Inc., Windows is trademarks of Microsoft Inc.