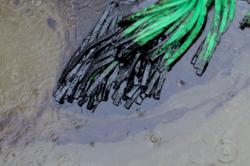 Mayflower, AR (PRWEB) June 20, 2013
Opflex Solutions, Inc. responded today to ExxonMobil's recent acknowledgement that OPFLEX® Technology is a comparable sorbent material that could have been used during the Mayflower, AR oil spill cleanup program.
Theresa Fariello, Vice President of ExxonMobil, stated in a letter sent to Congressman Ed Markey (D-MA) that "a field demonstration of the OPFLEX product was conducted for ExxonMobil within the first week of the [oil-spill] response. The OPFLEX sorbents were compared with the oleophilic sorbents already being used in the response and were found to perform similarly for the oil being collected at the site. As sufficient sorbents were on-hand and additional quantities were en-route, it was determined that, for this response, the OPFLEX product was not required. ExxonMobil conducts research and development in-house and works with vendors developing and testing new technologies for cleaning up all types of oils."
While it is encouraging that ExxonMobil considered OPFLEX for use in the Mayflower disaster, in fact, OPFLEX is not a typical sorbent made of solid polypropylene fibers; it is much different. OPFLEX is a unique Open-Celled elastomeric sponge that adsorbs and removes oil while repelling water, enables the recycling of the full range of crude oils, and provides unprecedented fingerprinting of the water column for oil and toxic chemicals and associated bio-accumulation. Small spills can be detected before they become large-scale disasters.
First introduced during the 2010 Deepwater Horizon oil spill in the Gulf of Mexico, the OPFLEX Technology was used, approved, and endorsed by BP America. Over 2 million square feet of OPFLEX was used by BP to remove crude oil from the coastal wetlands and near the site of rig explosion. BP re-used OPFLEX products an average of 25 times thereby effectively getting the use of 50 million square feet. OPFLEX not only adsorbed more oil than the older sorbent materials, but as an Open-Celled elastomeric foam sponge, OPFLEX can be squeezed or centrifuged to remove and recover the oil.
BP's deployment of OPFLEX Technology was reported in a November 15, 2010 USA Today cover story: http://usatoday30.usatoday.com/money/industries/environment/2010-11-15-gulfcleanup15_CV_N.htm. OPFLEX was the only new technology deployed that removed oil, recovered oil, was re-cycled, and re-deployed by BP out of the 43,000 ideas submitted.
In ExxonMobil's response letter to Congressman Markey, ExxonMobil stated, "We have found no documentation from Canadian Natural Resources Limited or Cenovus, Inc, the two Canadian producers of Wabasca Heavy Crude, reflecting that Wabasca Heavy Crude is anything other than heavy crude oil."
Mr. Smith stated, "We will leave it up to Congress and appropriate Arkansas and Federal agencies to sort out whether or not this spill is "heavy crude" or "tar sands oil", but I witnessed firsthand a smell, odor, and viscosity, unlike anything I ever witnessed while working in the Gulf of Mexico during the BP oil spill. It is important to note that on the Cenovus, Inc. material safety data sheet, hydrocarbon diluent is listed at 10 – 50% of the concentration with no further details as to the specific hydrocarbons. We believe our results from the fingerprinting of the water column in and around Mayflower identified many of these undisclosed hydrodcarbons used to dilute the "heavy oil". We have positively identified cyclohexane, ethyl benzene, hexane, naphthalene related compounds, toluene, xylene, and other polynuclear aromatic hydrocarbons in the water column and matched the fingerprints to those from the drainage ditches that flow into Lake Conway."
Detailed OPFLEX fingerprinting of the water column results are available at http://www.opflex.com. The fingerprinting testing of the water column is ongoing and more results will be released as they become available.
Upon hearing of the March 29, 2013 ExxonMobil oil spill in Mayflower, AR, inventor of OPFLEX Technology, Mr. Smith, immediately travelled to the community to test his advanced Open-Celled elastomeric sponge. Never before tested in thick tar sands oil or "heavy crude" as ExxonMobil describes the spilled oil, Smith demonstrated in front of ExxonMobil officials that OPFLEX technology, as approved, used, and endorsed by BP in the 2010 Gulf of Mexico Oil Spill, is indeed the Best Available Technology to clean oil out of water in a situation like Mayflower, AR. This was reported by the local NBC affiliate KARK 4: http://youtu.be/dBp9x_r1at8.
Mr. Smith has made 8 trips to Mayflower, AR, from April 1, 2013 thru May 29, 2013, doing extensive scientific testing along with fingerprinting the water column for bio-accumulation of toxic chemicals and "heavy oil." Mr. Smith documented the damage to the wetlands and community of Mayflower extensively and recently presented a summary to Congressional committee staff members and NOAA: http://youtu.be/SdREPjdYhXg.
Additionally, the ExxonMobil Pegasus pipeline oil spill was a milestone test for the advanced OPFLEX Open-Celled elastomeric sponge technology because of the "heavy oil". Mr. Smith stated, "While we appreciate ExxonMobil's efforts to utilize proven new technology in the "heavy oil" spill in Mayflower, AR, the fact is that 40 year old polypropylene sorbent technology was used along with conventional skimming and vacuuming processes and the Best Available Technology was not deployed and nothing learned from the BP spill in 2010 was applied. The use of outdated and ineffective technologies led to the needless destruction of the wetlands in Mayflower, AR."
Mr. Smith added, "There were additional facts disclosed in my e-mail communications to ExxonMobil not addressed by ExxonMobil in their letter to Congressman Markey. For example, with the proper understanding of how Open-Celled surface area maximizes contact with the water to remove the oil and contaminants before impacting the wetlands, Open-Celled elastomeric synthetic eelgrass could have helped prevent the subsequent bulldozing of the wetlands in and around Lake Conway by removing the oil and toxic chemicals more effectively."
Mr. Smith's response letter to ExxonMobil attempts to clear up any confusion about the advanced Open-Celled nature of his invention while focusing on his collaboration with scientists, Gray Curtis and Sandy Williams, of the Woods Hole Oceanographic Institution and the science behind the technology. The letter and prior e-mails to ExxonMobil are available at http://opflex.com.
Invited as a speaker by the League of Women Voters of Arkansas at a Mayflower, AR town hall meeting on May 29, 2013, Mr. Smith presented an update on the Mayflower oil spill and presented his test results of the water column in and around Lake Conway. Because OPFLEX technology adsorbs "heavy oils" which include tar sands oil and related chemicals into its Open-Celled elastomeric structure, it has been effective in tracking the spread of contamination through local waterways and towards the Arkansas River. A video of Mr. Smith's complete presentation can be seen online: http://youtu.be/nAhdyONnxg4.
Smith continued, "OPFLEX® technology along with other proven technologies should have been used to prevent the damage to the community of Mayflower and the needless filling of the landfills. Open-Celled Elastomeric OPFLEX® technology results in 500% more surface area than conventional white booms and re-usability via wringing and centrifuging (to quickly recover oil and avoid needless filling of landfills) as proven by BP in the Gulf of Mexico oil spill. We look forward to working with ExxonMobil in the future to deploy the Best Available Technology for oil spill preparedness, so when accidents happen in the future that damage to communities and precious ecosystems are mitigated."
Contact: Skye Wallin, Media Relations
swallin(at)opflex(dot)com
(310) 990-4280
###