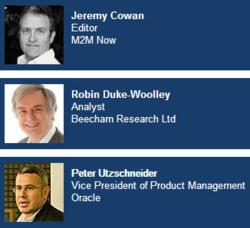 (PRWEB) June 21, 2013
Join Peter Utzschneider from Oracle and Robin Duke-Woolley of Beecham Research as they discuss the findings from this survey and the implications for the M2M & IoT connected devices market. Register now: http://view6.workcast.net/register?pak=8511925054772794.
Date: 27th June 2013 | Time: 14:00 (BST)
Discussion will include:

What are the key business drivers of your connected devices program?
To what extent do you expect the intelligence required for M2M & IoT applications to change?
Would these changes occur at the network edge, at the data center, or both?
What are the impacts of these changes on ISV's and device manufacturers?
What are the opportunities for other M2M & IoT players?
Register to attend live: http://view6.workcast.net/register?pak=8511925054772794.
About the speakers:
Peter Utzschneider
Vice President of Product Management, Oracle
Mr. Utzschneider is responsible for market strategy for Java SE, JavaFX, Java ME and Java Embedded products with focus on the commercial success of the Java products, vibrancy of the Java community and Oracle's ongoing commitment to the language and technology.
Robin Duke-Woolley
Founder and Senior Analyst, Beecham Research
Robin Duke-Woolley is one of the best-known and most respected names in machine-to-machine (M2M) communications, with over 20 years' experience as an analyst and consultant in telecommunications. Beecham Research combines successful business experience, and extensive analysis expertise in both research and consulting practices. The company operates globally and has research partners in many parts of the world.
Machine to machine communications offer a bright but challenging future
At face value, machine-to-machine (M2M) communications are simply devices sharing data in a wired or wireless network. For over 20 years, they have been mainly one-to-one connections, recording events at remote locations such as changes in stock levels or temperature. That was then, this is now.
Today, many communications service providers (CSPs) are excited by the possibilities of huge growth in traffic serving every business and social sector, from telematics that monitor vehicle performance and update in-car software, to smart meters advising providers of the utilities consumed, to controlling secure site access, to healthcare providers checking remote devices such as dialysis machines or even pacemakers.
M2M networks already support a wide range of applications (47.7 million wireless connections worldwide in 2008, according to Berg Insight, and expected to reach 187 million by 2014). These applications are growing to include: critical health provision, transaction reporting (car parks, train tickets, toll roads, vending machines), and low value, low frequency service updates (such as industrial monitoring). M2M can present widely differing challenges in business models, technologies, implementation and support.
In the first global magazine of its kind, M2M Now explores the evolving opportunities and challenges facing CSPs, and we pass on some lessons learned from those who have taken the first steps in next gen M2M services.
How should you plan networks for new and unproven services?
How can telcos provision the SIMS, and number the vast quantity of devices involved?
How do you price and charge for such varied services?
Where should intelligence reside, in the device, the network or the cloud?
How do you guarantee the quality of service levels needed for life and death data?
Which operators are most active in new M2M services, and what has it taught them?
M2M Now covers all industries using machine-to-machine communications (fixed line & wireless)
for business-to-business users and consumers' connected devices. These industries include: automotive, education, energy & water utilities, fleet management & telematics, healthcare, manufacturing, retail & vending, security & access control, telecoms, smart cities, and transport & logistics. It also features Board-Level Interviews (in print and video) with executives from Network Operators, M2M Service Providers & Aggregators, Technology Enablers & Vendors, and Corporate End Users.
Meanwhile, you can follow our progress on twitter: jcm2m and m2mnow
or website: click here http://www.m2mnow.biz.