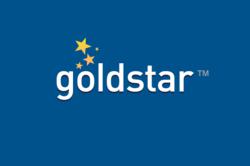 Our members live busy, active lives, so the Goldstar integration into Google Now will help organize their schedules so their days, nights and weekends can be free to enjoy the great events that Goldstar has to offer," says Goldstar CEO, Jim McCarthy
Pasadena, Ca. (PRWEB) June 24, 2013
Goldstar, the world's biggest ticket booth, today announced a partnership with Google Inc. The new integration with Google Now will provide consumers with the right information about live entertainment in their area at just the right time.
When Goldstar members receive an e-mail confirmation to Gmail for the purchase of a ticket to a concert, sporting event, Broadway show or other live event, these details can now be shown as a card within Google Now. The card will have information members need like the date and time of the show, but it can also have information that consumers didn't know they needed like weather forecasts, traffic updates and turn-by-turn directions, but they will be glad that information is there.
"Integration with Google Now is a great opportunity for Goldstar members," said Jim McCarthy, CEO of Goldstar. "Our members live busy, active lives, so the Goldstar integration into Google Now will help organize their schedules so their days, nights and weekends can be free to enjoy the great events that Goldstar has to offer."
Users will be able to set reminders on Google Now with their voice for upcoming events, like ones that will be available on Goldstar. Google Now can even take it one step further by reminding you when an actor or performer returns to your area or has a new movie, TV show or album available.
Goldstar membership is free and it's as easy as logging on to http://www.goldstar.com to sign up and receive exclusive prices for tickets.
About Goldstar
Since 2002, Goldstar (http://www.goldstar.com), the biggest ticket booth in the world, has been making live entertainment a part of everyday life for its nearly 4 million members. Goldstar combines progressive technology with a wide variety of live entertainment options for a one-of-a-kind ticketing experience featuring half-priced tickets and unparalleled site features that help members make decisions on entertainment and include their friends. More than 5,000 venue partners in major US markets partner with Goldstar to sell out their events, reach new audiences and maximize revenue. The company is headquartered in Pasadena, CA, with offices in San Francisco, CA and Portland, OR.
Additional information on Goldstar can be found at http://www.goldstar.com/company and http://www.goldstar.com/company/press_room.