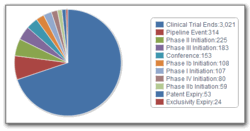 Norwood, MA (PRWEB) June 26, 2013
With a PDUFA decision date of 6 July, Orexo has plans to launch Zubsolv for opioid dependence in September of this year. According to experts interviewed by BioPharm Insight, Zubsolv will face a challenging market launch in the face of upcoming generic competition and reimbursement climate.
Boehringer Ingelheim's lung cancer drug afatinib is likely to be approved this year as a first-line treatment, based on oncologist interviews, but experts agreed it would most likely be utilized in the second-line setting. Oncologists told this news service they will most likely use another EGFR inhibitor, Astellas/Roche's Tarceva (erlotinib) first, as afatinib has not been proven to have a better response rate compared to Tarceva. Boehringer's afatinib may also cause slightly higher toxicity and side-effects in patients compared to Tarceva.
In other news, Kythera's Phase III study for ATX-101, a potential treatment for double chin fat reduction, was viewed favorably by physicians. ATX-101 is a synthetically derived formulation of deoxycholic acid, a naturally occurring molecule found in the body that aids in fat metabolism. Patients with mild-to-moderate skin laxity are likely to be the main candidates for ATX-101 if approved. Contouring agents like Allergan's Botox (onabotulinumtoxinA) might be used to complement the drug's effects, experts told this news service.
Physician feedback for Novartis' multiple myeloma agent panobinostat was not so promising. Panobinostat's preliminary safety data reported 36.2% of patients experienced thrombocytopenia, 14.5% had diarrhea, 13% had anemia and 11.4% had neutropenia. In addition, 26.2% of patients also suffered peripheral neuropathy. While Merck's Zolinza (vorinostat) also has significant toxicity issues and has no survival benefit, it is still a better HDAC inhibitor than panobinostat, one oncologist noted.
Other major catalysts highlighted in the report include:

FDA Advisory Committee meeting for QRxPharma's pain medication MoxDuo IR (morphine/oxycodone)
Interim Phase III Xtandi (enzalutamide) data from Medivation's PREVAIL prechemotherapy trial in metastatic castration-resistant prostate cancer
Neurocrine Biosciences' Phase IIb tardive dyskinesia results for NBI-98854
Phase III LIGHT trial interim results from Orexigen Therapeutics' obesity treatment Contrave (naltrexone/bupropion)
EMA decision for ViiV Healthcare's dolutegravir in HIV
BioPharm Insight's monthly Catalyst Monitor analyzes the most material events in the sector. The Catalyst Monitor tracks significant events and announcements such as FDA approvals, Advisory Committee meetings and key clinical results. Download the full report.
About BioPharm Insight
BioPharm Insight is the definitive guide to the global biopharma community. BioPharm Insight provides subscribers with an information edge by combining the most comprehensive real-time database of companies, drugs, contacts, M&A and licensing deals, forecasts and clinical trial data with proprietary forward-looking intelligence uncovered by an independent team of investigative journalists months or even years before it breaks in mainstream media. To learn more, visit http://www.biopharminsight.com. Follow BioPharm Insight on LinkedIn and Twitter.
About Infinata, Inc.
Infinata provides personalized technology solutions to turn information into insight. Services include a comprehensive BioPharm Solutions Suite, unique Wealth Prospecting tools and innovative Custom Data Services. Infinata is a part of Mergermarket, a Financial Times Group company and a division of Pearson plc. To learn more, visit http://www.infinata.com.