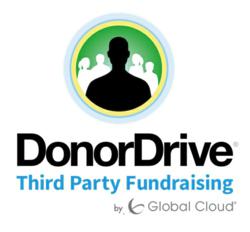 More and more organizations are looking to DonorDrive as their preferred fundraising software to launch third party programs.
Cincinnati, Ohio (PRWEB) June 20, 2013
DonorDrive Social Fundraising Software is helping nonprofits increase their fundraising with the release of The Complete Guide to Creating a Third Party Fundraising Program. This blog series and eBook follow the success of DonorDrive clients and details the steps for building a thriving third party program. DonorDrive is the choice in Third Party Fundraising Programs for some of North America's most respected nonprofits including Doctors Without Borders and ASPCA. These online-based initiatives are being used to raise millions on top of these organizations signature events.
The guide points out that the most successful Third Party Programs focus on three types of supporter-driven fundraising campaigns: Personal Campaigns (creative fundraisers built by individual supporters), Community Events (large events hosted by supporters, such as festivals or neighborhood walks), and Challenge Events (participants in endurance events, like the New York City Marathon, fundraising for their favorite cause). While DonorDrive excels at managing national signature events and capital campaigns, more and more organizations are looking to DonorDrive as their preferred fundraising software to launch their third party programs. Kymberlee Setterberg, Director of Team ASPCA, chose DonorDrive because of its deep capabilities. "Many software companies offered the piece for endurance, but didn't have the ability to run supporter-driven events. That's why we made a decision to go with DonorDrive. We've been extremely pleased with DonorDrive. It's a very, very user-friendly product." Much of today's fundraising software doesn't have the capability to easily handle an extensive third party program like the one Team ASPCA has built.
The guide also covers the many benefits of third party programs for nonprofits that drive this type of program's popularity. The key benefit is cost effectiveness. The supporter does the work while the software handles organization, promotion and donations. Mike Malekoff, former vice president at JDRF oversaw the creation of a third party program on DonorDrive that raised over a million dollars in just two years. He feels that in the current climate where more and more supporters want to contribute to causes in their own way, adopting third party programs are a necessity for organizations that want to thrive. "They give your supporter the ability to engage your organization in the way they want to." For the organization, the software is in place for nonprofits to say "yes" to supporter creativity. "Now you don't have to say 'no' to something that doesn't fit your standardized events, something not within current revenue streams." The guide shows how the added donations that third party campaigns bring in require minimal organization resources.
Part One of the Complete Guide to Creating a Third Party Fundraising Program is available on the DonorDriven blog. The free eBook will be out soon as well.

DonorDrive® is truly effective software dedicated to event-based social fundraising for medium and large nonprofits. Children's Miracle Network Hospitals, Doctors Without Borders, JDRF Canada and Team ASPCA are a few of the causes that use DonorDrive Social Fundraising software for their runs, walks, rides and virtual campaigns to engage constituents and maximize donations. Every year, people are raising millions for great causes through DonorDrive. Learn more at DonorDrive.com