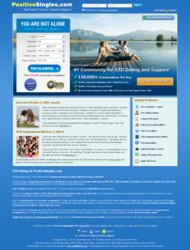 (PRWEB) June 22, 2013
Over 70 million people are living with STDs in the U.S. alone, as well as an estimated 400 million people worldwide. As the numbers increase, life for those suffering from diseases like STD, HPV, HIV AIDS, or Herpes becomes hard. However, hope comes in the form of PositiveSingles.com, the best, largest, completely anonymous and most trusted online dating site for people with Herpes, HPV, HIV / AIDS, Hepatitis, Chlamydia, Gonorrhea, Syphilis and other STDs in the world with countless members in the US, UK, Canada, Australia and Europe.
According to investigation done by positivesingles.com, the distribution of people suffering from a range of STDs look like:
Age: 18-25, there are 23.98%
Age: 25-35, there are 29.69%
Age: 35-45 there are 31.57%
Age: 45-55, there are 4.41%
Age: 55-65, there are 1.55%
Age: 65+, there are 8.80%
We collected this data to help those people who are suffering from STDs know that they aren't alone. There are many reasons why one fails to use effective means of contraception and exposes oneself to deadly STDs. Living with diseases like STD, HPV, HIV AIDS, or Herpes is not easy because of the social stigmas attached to them, which is why we want to play a vital role by helping sufferers find a suitable partner with STD, HPV, HIV AIDS, or Herpes on positivesingles.com.
PositiveSingles.com is a warm-hearted and exclusive community for singles and friends with STDs. It gives patients living with STD, HPV, HIV AIDS, Herpes and other such diseases a chance to get on with their life and meet new friends, partners or potential spouses. What's better is that the site is chock-full of expert advice where one can also learn about STD medical treatments and information, or find experts to talk to and find help and advice. Their privacy policies are more stringent than what visitors find at regular sites because they take special care to maintain anonymity until a member is comfortable enough to reveal his/her identity. Anyone and everyone with an STD can join them regardless of race, religion, sexual orientation or gender with a free signup account.
PositiveSingles is part of a network of affiliated sites serving persons who are STD positive. Unique features of their site includes a live counselor/expert, live dating adviser, the largest STD blogs, over 800 STD care locations, over 800 STD Q & As, over 500 STD treatment stories, STD information, support forums/events, online STD chat rooms, daily STD news and much more. For more information, please visit http://www.positivesingles.com/