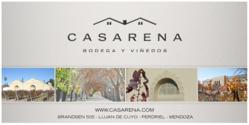 Los Angeles, CA (PRWEB) June 20, 2013
3,190 wines from around the world were judged in the 74th annual Los Angeles International Wine Competition held last month. This is the second year the judges have implemented a point-scoring system to further acknowledge the characteristics and attributes of the different varietals and price points represented.
Casarena received a Gold Medal and Best of Class award with a score of 93 points for their 2011 Reserve Malbec. Retailing for under $20, Stephen Tanzer of International Wine Cellar calls it, "Classy for the price," further describing the wine as having, "Captivating aromas and flavors of blackberry, blueberry, licorice, herbs and mocha oak, plus a hint of fig. Densely packed, fresh and intense, offering very good extract and life in the mouth. Finishes even and long, with supple, building tannins, sweet fruit and a note of coffee oak."
President Marcelo Waldheim is proud of the award. "It is a great honor to score so well in such a prestigious competition, smack in the middle of U.S. wine country." He goes on to say that, "The timing couldn't be better, as we were in California at the beginning of June to kick off the brand with our new distributor Titan. We are looking forward to introducing Casarena to the sophisticated palates of the west coast oenephiles!"
About Casarena Winery & Vineyards
Casarena is located in Lujan de Cuyo, Mendoza, Argentina, nestled into the foothills of the Andes Mountains at an altitude of over 3,000 feet above sea level. Referred to as the Primera Zona, Lujan is the first controlled appelation established in Mendoza, and is home to the most prestigious vineyards in Argentina. Our freshly renovated century old winery has a capacity of 900,000 liters to vinify the 400 acres of estate-owned vineyards of Casarena.