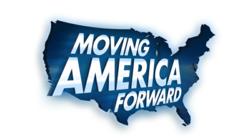 Small businesses represent some of our country's key values: risk-taking, ingenuity, and hard work. - President Barack Obama
Jacksonville, FL (PRWEB) June 20, 2013
Aviator Gear is proud to announce that it has been presented with the prestigious "Moving America Forward" Award by Retired Rear Admiral Kevin F. Delaney. This award is given to innovative entrepreneurs that have distinguished themselves in their industry and, as a result, are "Moving America Forward".
As winner of the award, Aviator Gear CEO, Amanda Bower, and founder, Cory Bower, will be featured on the "Moving America Forward" television show hosted by William Shatner. The show will air nationally in September, 2013.
Amanda and Cory will be interviewed in Los Angeles by William Shatner and Doug Llewellyn, discussing how Aviator Gear has quickly become the leading online retailer of aviation-related products. Amanda Bower, Aviator Gear CEO, says, "We are so proud to have our dedication to serving the military aviation community recognized with this award."
The timing of this award – during National Small Business Week – is a perfect way to highlight the importance of small businesses run by women. In the last 15 years, the number of women-owned firms increased by 54%—a rate 1½ times the national average (U.S. Small Business Administration). Aviator Gear founder, Cory "Trap" Bower, who has served over 21 years in the United States Air Force, says, "It is an honor to receive this opportunity, as our business growth is due to our knowledge of the military aviation market better than anyone else in this space."
About Aviator Gear
Since 2005, Aviator Gear has designed and created custom products for military flying squadrons and aviation companies across the globe with a vision to provide the very best secure, dependable, online experience. Aviator Gear offers a streamlined, error-free, on-time process for delivering high-quality products with great design. We are military experts dedicated to customer-focused service and quick responsiveness, coupled with deep, accurate knowledge of the military rules, regulations and heraldry guidelines.
Aviator Gear is a Woman-Owned Small Business (WOSB) with Historically Underutilized Business Zone (HUBZone) certification. The company is headquartered in Jacksonville, Florida.