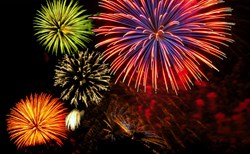 Berkeley Hall Independence Day Weeklong Celebration
Hilton Head Island, SC (PRWEB) June 20, 2013
Real Estate Scorecard invites buyers and avid golfers to a special holiday event taking place in the Hilton Head Island area. A simple barbecue and fireworks show may be the perfect party for some people on the Fourth of July. Although, for people living in South Carolina coastal communities, Independence Day lasts all week. With an extensive itinerary of patriotic activities, travelers from miles away come to join these Bluffton communities for the Fourth of July at Berkeley Hall, one of the Low Country's finest private gated communities. After three consecutive years, this four-day party is now an exciting tradition. From fitness marathons to kayaking tours, Independence Day is a fun-filled event for club members and guests.
Located just west of Hilton Head Island, Berkeley Hall is a private Bluffton golf community. Hilton Head Island is repeatedly named one of the Top 10 Places to Retire. Berkeley Hall membership continues to increase each year as Low Country real estate is in high-demand as retirees search for where to retire in the Southeast. Berkeley Hall is proud to be one of the finest Low Country neighborhoods and warmly invites its members and guests not miss the upcoming four-day Fourth of July event.
Members of the Berkeley Hall and guests can make reservations through the community's Concierge service for the Independence Day extravaganza weeks in advance. Activities such as the 5K marathons, golf and kayak classes, require sign-up forms. Other events hosted by the Berkeley Hall include:
Beer and Wine Sampling
Tennis Clinics
Pontoon Boat Tours
Weekend Brunches and Barbeques
Carnivals
Pool Parties
Musical Events & Dances
Holiday Games
Berkeley Hall is set to host all of these events including an amazing fireworks show to end the four-day event. This year, the club spared no expense as it brought in the community's favorite music, a bounce firetruck for children, full service bar zones for adults and much more.
With more retirees interested in becoming full-time residents of South Carolina coastal communities near Hilton Head Island, this year Berkeley Hall has decided to welcome visitors without permanent memberships to enjoy this year's festivities and learn more about Berkeley Hall. Families and friends can participate in the fun and can stay in one of the cottages owned by the Berkeley Hall. The Charleston-style one, two or three-bedroom cottages are located near the private golf courses and a short distance from downtown Bluffton. The cottages provide all the necessary amenities to accommodate sponsored guests including: a wet bar, microwave, refrigerator and television. Individuals or families interested in staying in these cozy cottages can contact the private Concierge services to make reservations.
With all the activities and events scheduled for the Fourth of July at the Berkeley Hall, members and their guests can expect an exciting and memorable holiday as they experience Berkeley Hall up close. This Bluffton golf community is more than an old fashioned "country club" in South Carolina. Berkeley Hall brands itself as "a private club for the next generation, and generations to come." This year's patriotic events exude Berkeley Hall's southern charm. To attend this event at Berkeley Hall and tour homes for sale, contact Johnny Ussery or Tom Jackson of Gateway Realty. They can be reached at 843.384.8105 or 843.757.7710.
About Real Estate Scorecard:
Real Estate Scorecard writes unbiased real estate reviews providing in-depth information about popular gated communities in Florida, Georgia, North Carolina, South Carolina and Tennessee, all in an effort to help people discover where to retire in the Southeast.