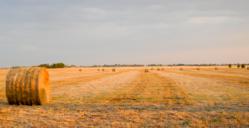 This is auction provides a rare opportunity for serious land and mineral investors.
Kansas City, MO (PRWEB) June 21, 2013
Qualified buyers will have the opportunity to purchase 132± acres of land, an equestrian estate and mineral rights in Ford County, Kan. The acreage will be sold in two separate tracts or as a whole.
Conducted by Brian Rose, REALTOR®, E-Pro, auctioneer and owner of United Country – Red Hill Realty & Auction, the live auction will take place at United Wireless Arena/Magouirk Conference Center, which is located at 4100 W. Comanche in Dodge City, Kan. Registration for the event will begin at 9 a.m., and the auction will take place at 10 a.m.
The first tract consists of approximately 120 acres and includes:

(2) Irrigation rights
Vested Right File No. FO-34 (80 AF @ 680 GPM)
Water Right File No. 5076 (40 AF @ 675 GPM)
Roughly 20 acres of Cropland (fallow since 2010)
Roughly 63 acres of CRP (contract expires in Sept. of 2014)
Roughly 32 acres of pasture/grass
Dry pond/sand pit
Four-acre homesite with electricity, water and newer septic system
The second tract features is about 12 acres and is home to a three-bedroom, two-and-a-half-bath residence. The master bedroom has a walk-in closet as well as sliding glass doors out to a private deck. A wood-burning two-sided fireplace opens to both the living room and the dining room. The house also features a two an open floor plan, Pella windows and an attached two-car garage. This tract was planned with horses in mind, featuring a shop/stable, two loafing shelters, corrals/pens, approximately seven acres of pasture, a 50-foot round pen and a steel hay barn.
"This is auction provides a rare opportunity for serious land and mineral investors," said Rose. "Because this property rests in the heart of the Mississippian Oil Play in Southwest Kansas – which historically has had high success ratios for oil and gas exploration – the next owner gains great potential for return on investment. Additionally, this event offers a fantastic chance for a buyer to purchase an outstanding farm and horse property at an affordable price. Today's market conditions and the auction format allow sellers and buyers to come to a meeting of the minds quickly with a competitively achieved fair market value. In times like these, an auction is the best way to establish what real market value is."
Detailed information about the property for sale, as well as details about the auctions, can be found online at UCColdWater.com or by calling 620-582-2455.
About United Country
United Country Real Estate is the largest fully integrated network of conventional and auction real estate professionals in the United States and Latin America. The company has been an innovator in real estate marketing since 1925. United Country supports nearly 550 offices across the U.S., Costa Rica, Panama and resort areas of Mexico, with a unique, comprehensive marketing program that includes one of the largest portfolios of property marketing websites (more than 3,500 separate sites and traffic of approximately 3 million visitors per month), multiple United Country real estate catalogs and third-party lifestyle magazines with national distribution, an extensive buyer database and other national advertising of local properties that reaches more than 90 million homes per week. United Country has recently been recognized by Franchise Business Review, AllBusiness.com, The Land Report, Entrepreneur and The Wall Street Journal as one of the top U.S. real estate companies.