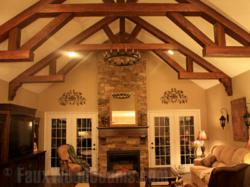 People want a look that is uniquely their own.
Deer Park, NY (PRWEB) June 25, 2013
FauxWoodBeams.com responds again to customers' requests and expands the length options for its custom beams from two choices to 15. When combined with 17 widths and 17 heights, it creates thousands of design possibilities for consumers, decorators, architects and contractors.
"Our clients kept asking for even more custom options and what they want, we like to deliver," said Steve Barron, president of FauxWoodBeams.com.
FauxWoodBeams.com added custom sizing last year, allowing its clients to choose widths and heights ranging from four inches to 12 inches, with half-inch increments, however the lengths were limited to 16 feet and 20 feet. While these realistic looking and feeling polyurethane beams can be easily cut into shorter lengths, customers asked for additional length options.
Now Hand Hewn, Sandblasted, Aspen and Resawn beams can be ordered in not just any combination of 17 widths and 17 heights but also 15 length options, ranging from 10 feet to 24 feet with one foot increments available.
"Our customers use our beams in all kinds of ways, including to hide structural elements and pipes. We've even had people order our fake beams to cover up existing genuine wood beams that needed a facelift but were too difficult to refinish or change," said Barron.
For even more design options, the beams are available three sided and four sided, and with or without end caps. Several color choices are also available as well as an unfinished option so custom staining or painting can be easily done.
The style options for these expanded custom beam options include Resawn, Heavy sandblasted, Aspen, and Hand Hewn. Each style is made from molds of genuine wood to create beams that have the look and texture of its expensive, solid wood counterpart.
Sandblasted beams are created when fine sand is applied to wood with high pressure, wearing down imperfections and saw marks without affecting the grain or knots. Hand hewn beams are cut with a hand saw – a time consuming and difficult task that creates a distinctive pattern.
Aspen beams have the raised grain of deep-grain timber from the Rocky Mountains. Resawn beams feature a cutting technique developed at the end of the 19th century to create a unique look.
While these beams have the look and feel of the real thing, faux beams do not attract pests like termites or carpenter ants. Because they're made of durable polyurethane, they won't warp or rot in harsh weather or extreme temperatures. They can even be used in high moisture areas like bathrooms, indoor pools and outdoors. They're also easier to install and require less manpower due to their lighter weight, meaning construction is faster and labor costs are lower.
"People want a look that is uniquely their own. Thanks to our expanded design options and dimensions, they can create exactly the look they envision," said Barron.
About FauxWoodBeams.com
Faux Wood Beams is an industry leader for providing realistic polyurethane wood beams, ceiling panels and architectural items. Its products have been regularly featured on television shows such as "Brothers on Call," "Celebrity Apprentice," and numerous appearances on "Extreme Makeover: Home Edition." FauxWoodBeams.com is a subsidiary of Barron Designs, Inc., a family-owned home improvement business operating since 1972. For more information, visit FauxWoodBeams.com