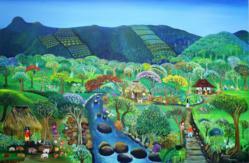 The good news is that Nicaragua has an abundance of renewable options, from geothermal to wind, solar to hydro, and biomass as well as waste-to-energy. - Maryruth Belsey Priebe, senior editor of The Green Economy
Princeton, New Jersey (PRWEB) June 25, 2013
Nicaragua's ambitious renewable energy program promotes foreign business investment through tax incentives for foreign investors. International organizations such as the World Bank, International Finance Corporation and many NGOs support the government's work, hoping to reduce poverty and foreign oil dependency.
As recently as 2006, Nicaragua's energy production was so poor that 6-10 hour daily blackouts were common occurrences blamed on derelict energy plants and an unreliable electric grid. The country is vulnerable to climate change—already having lost 9% of its agriculture industry—which helps foster the political will necessary to ensure energy development. In only a few years, the Sandinista government increased grid capacity 41%, paving the way to develop the country's immense natural resources.
"The good news is that Nicaragua has an abundance of renewable options, from geothermal to wind, solar to hydro, and biomass as well as waste-to-energy," according to Maryruth Belsey Priebe, senior editor of The Green Economy. "This, doubtless, is one of the most convincing arguments in favor of renewables development in the country."
If they continue to increase renewables by 10% annually, Nicaragua will be an energy leader in its region and a model for other small countries seeking energy independence. Attractive investment opportunities, continued growth in the renewables market and prospects of decreased oil dependency make Nicaragua's future bright.
About Us:
The Green Economy is an online magazine and website, providing reliable, fact based, in-depth reporting on energy, technology, policy, design and finance.