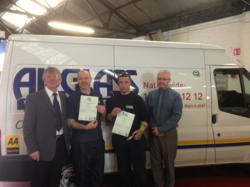 Manchester, UK (PRWEB UK) 24 June 2013
Dublin technicians at vehicle glass repair and replacement company, Allglass, have become the first in Southern Ireland to achieve a GQA qualification in automotive glazing through a joint initiative with Auto Windscreens.
Thirteen technicians at Allglass, which operates throughout Southern Ireland, gained the industry-recognised GQA Level 2 NVQ Diploma in Automotive Glazing (QCF) certification. The company now plans to roll out the assessment across all its depots as part of a wider drive to be become the 'best' glass provider in the country, having not only the experience but qualified knowledge and practical skills to deliver a high-quality service to its customers.
After deciding upon UK glass specialist awarding body, GQA Qualifications approached Auto Windscreens, an established and forward-thinking leader in the automotive glazing industry. The reason was to aid and assess its technicians throughout the NVQ process.
Paul Purcell, a director at Allglass, said: "Allglass is delighted to be the first company in Ireland to be associated with GQA. When we first looked at training and qualifications for our technicians, we wanted a recognised brand with high standards and an assessment process of 'real world' practices. All other accreditations that we looked at are assessed in controlled environments." He added: "We now intend to roll out this assessment to all our depots throughout Ireland during 2013."
Following an extensive skills analysis carried out by Auto Windscreens, a development and assessment plan was formulated and put into practice. The Allglass technicians were assessed against the requirements of the industry-developed qualification, covering health and safety, customer service, removing and replacing both fixed and opening glass, windscreen repair and the removal of encapsulated windscreens intact.
Auto Windscreens' Technical and Training Manager, Chris Bonsall, who also carried out internal quality assurance of the process, commented: "We have long provided GQA training to our own technicians and have developed successful teaching methods that result in a firm understanding of best practice. Allglass is dedicated to delivering a high quality standard of work as is Auto Windscreens, so it made sense for us to share our experience and knowledge with them."
GQA Chief Executive Officer, Mick Clayton, made two trips to Dublin to monitor assessments taking place. He concluded: "The commitment to quality and people development was plain to see from the moment I first stepped into the Wellington Street depot and was further confirmed throughout my discussions with senior management and technicians.
"Having observed Auto Windscreens' assessor, Tony Green, working with Allglass technicians, and seeing the skill levels of the technicians and their assessor, it was more than pleasing to be able to review final candidate portfolios and deservedly award the qualifications."
To find out more about GQA Qualifications visit http://www.gqaqualifications.com.
For more information about Auto Windscreen's Windscreen Repair Service please visit http://www.autowindscreens.co.uk/windscreen_repair.aspx
-Ends-
Notes to Editors:
About Auto Windscreens
Auto Windscreens is owned by Trifords Limited, part of the Markerstudy Group. It is a leading automotive glazing company, serving customers throughout the UK and across all sectors from managed fleet to insurance. With a nationwide network of fitting centres and backed by a fleet of mobile service units, Auto Windscreens is an expert in windscreen repair and automotive glass replacement. The company head office and dedicated contact centre is based in Chesterfield, Derbyshire.