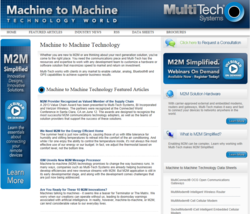 We're thrilled to sponsor this quality forum where companies can learn how to make M2M a more simplified process. - Mike Gustafson, VP of Marketing, Multi-Tech
Minneapolis, MN (PRWEB) June 20, 2013
Multi-Tech Systems, a leading M2M solutions provider, announced today that it has launched the Machine to Machine Technology World online community on TMCnet.com, as offered through TMC, a global, integrated media company helping clients build communities in print, in person and online.
The Machine to Machine Technology channel is designed for decision-makers in connectivity seeking information regarding better ways to connect their devices to various networks. Visitors to this Channel can find valuable resources such as feature articles, industry news, whitepapers and videos.
The Machine to Machine Technology channel can be found at: http://www.machinetomachinetechnologyworld.com/
Multi-Tech Systems is looking to expand its reach with this TMC channel to educate companies on the possibilities of M2M and the IoT (Internet of Things). "Multi-Tech is pleased to join forces with TMC, which has established an exceptional track record of producing quality content," said Mike Gustafson, Vice President of Marketing at Multi-Tech. "M2M can be a complex endeavor. We're thrilled to sponsor this quality forum where companies can learn how to make M2M a more simplified process."
"TMCnet welcomes Multi-Tech's Machine to Machine Technology channel into our Online Community program," said TMC President Dave Rodriguez. "Multi-Tech is a best in class M2M hardware manufacturer provider that shares our vision of advancing new technologies. Our Online Community program is a powerful, community-building vehicle assisting our partners in building their brands, while contributing to the vast array of valuable content, which drives traffic to TMCnet, the most-visited communications and technology website in the world."
TMCnet is the leading Website for communications and technology professionals. TMCnet is visited by 1.5 million unique monthly visitors and generates more than 60 million page views every month, according to Webtrends.
About Multi-Tech Systems
Multi-Tech Systems has been delivering industry-leading M2M (machine-to-machine) communications solutions since 1970. With more than 22 million devices deployed worldwide, Multi-Tech focuses on helping customers achieve the shortest path to M2M connectivity – from concept to implementation and total lifecycle management. Whether a project is simple or very complex, Multi-Tech has the resources and expertise to work with any development team to customize a hardware or software solution that maximizes speed to market and return on investment. With carrier-approved external and embedded modems and gateways, Multi-Tech makes it easy and fast to connect your devices to networks anywhere in the world. We work with clients in almost any market to enable cellular, analog, Wi-Fi®, Bluetooth® and GPS capabilities into a solution to achieve superior business results. If we don't have it, we will develop it. Multi-Tech established its reputation for Innovative Designs and Innovative Solutions by obtaining 80+ patents and certifications from more than 30 carriers and over 80 countries. Multi-Tech has made M2M Simplified for thousands of customers around the globe. http://www.multitech.com. Twitter: http://www.twitter.com/MultiTechSys
About TMCnet Online Communities
TMCnet Online Communities are news-generated, content-rich sites that position companies as leading "go-to resource" for communications and technology related topics. TMC has been building Online Communities for over 10 years, and continue to be the market leader at developing these successful communities for clients. To learn more about the Online Community program, please contact client services inquiry(at)tmcnet(dot)com or call 203-852-6800. You can also visit us online at http://www.tmcnet.com/Community/Default.aspx
About TMC
TMC is a global, integrated media company that helps clients build communities in print, in person and online. TMC publishes multiple magazines including CUSTOMER, INTERNET TELEPHONY, M2M Evolution and Cloud Computing. TMCnet is read by more than 1.5 million unique visitors each month, and is the leading source of news and articles for the communications and technology industries. TMC is also the producer of ITEXPO, the world's leading B2B communications event, as well as industry events: M2M Evolution; Cloud4SMB Expo; DevCon5; HTML5 Summit; Super Wi-Fi Summit, CVx; AstriCon; StartupCamp, and more. Visit TMC Events for a complete listing and further information.
For more information about TMC, visit http://www.tmcnet.com.
Multi-Tech Systems Contact:
Gina O'Connell
Marketing Communications Manager
Tel: 763-717-5525
goconnell(at)multitech(dot)com
http://www.multitech.com