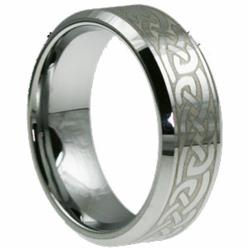 (PRWEB) June 21, 2013
http://www.iCelticRings.com, a large online retailer of Celtic Rings and Wedding Bands, is releasing a line of Irish Knotwork Rings in various widths, finishes and sizes to accommodate both men and women shoppers. The line will feature various knotwork designs both laser engraved and carved onto various styles that appeal to customers. Many of the designs featured within the line were created through specific customer feedback as to what they would like to wear for their wedding band or fashion ring. iCeltic Rings is also featuring a rare 20% coupon code until the end of June which can be used towards any in stock ring purchase. The coupon code celtic20 can be entered at the time of checkout to take advantage of the special savings.
iCeltic Rings launched the new website in 2012 featuring one of the most unique collections of Irish rings on the internet. The styles are incredibly durable being manufactured in tungsten carbide and coming in various finishes included polished, brushed, black and gold plated and popular dual tone finishes. Widths throughout the line range from thinner, more feminine widths to wider, masculine widths that are worn by those that want a statement piece. Prices are also competitive ranging from $99 to $259 for in stock ring styles. Custom orders are also available for a slightly higher fee over in stock ring prices. For the customers on a budget, they can always take advantage of the constant stream of online coupons and promotions that the company advertises on the internet.
iCeltic Rings encourages shoppers to purchase through the website with confidence. Not only is the website completely secure, each purchase comes with a lifetime warranty against any cracks or breakage that may occur for the life of the ring. The company also offers daily support through phone and email to answer any questions customers may have.
About iCeltic Rings:
iCeltic Rings was launched in 2012 as part of the Forever Metals line of rings and wedding bands. The unique line of ring features many unique Irish heritage rings that are commonly worn as wedding bands, engagement rings and promise rings.