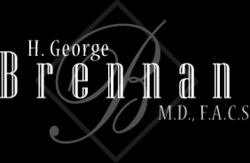 The upper chest rejuvenation outpatient procedure is painless, simple, and reverses signs of aging.
Newport Beach, CA (PRWEB) June 24, 2013
Orange County cosmetic surgeon Dr. George Brennan is now proudly offering the Upper Chest Rejuvenation cosmetic surgery procedure. This is a procedure Dr. Brennan designed for his patients who were always complaining that "My chest doesn't match my face." Dr. Brennan is the first Orange County cosmetic surgeon to offer this innovative procedure.
The upper chest rejuvenation outpatient procedure is painless, simple, and reverses signs of aging and sun damage of the upper chest by tightening the skin - similar to facial rejuvenation. Skin damaged by sun exposure can be greatly improved by a variety of laser, chemical or other non-invasive treatments.
The ideal candidate for the upper chest rejuvenation is someone who has loose skin on the chest (the V-neck area), which makes them feel too self-conscious to wear beautiful jewelry or lower cut blouses. They may have had facial rejuvenation and feel their chest is not complementing their face and is a giveaway of their age. Often, women who have had neck surgery continue to show signs of aging of the V-neck area of the chest.
"Our Orange Country cosmetic surgery office has always been on the cutting edge of cosmetic surgery treatments," said California plastic surgeon, Dr. George Brennan. "I am proud to be the first cosmetic surgeon in the country to offer this new option for my patients."
The upper chest rejuvenation procedure is new, however, Dr. Brennan says it will soon be common practice. He continues, saying there is also a high need for the procedure because it is so safe and simple.
According to Dr. Brennan, upper chest rejuvenation patients experience little or no pain. He also says patients can resume all normal routine activities the morning after surgery.
In addition to upper chest rejuvenation, Dr. Brennan offers a variety of plastic surgery restoration treatments, including: Cheek Augmentation, Facelifts, Breast Augmentation, Rhinoplasty, Facial Contouring, and Chin Augmentation. He and his cosmetic surgery team proudly serve Newport Beach, Orange County and surrounding areas of California.
About H. George Brennan, M.D., F.A.C.S
Dr. Brennan is a diplomat of the American Board of Cosmetic Surgery, practices in Newport Beach and surrounding areas, and has performed literally thousands of procedures over his 40 years of experience. He has innovated many instruments and techniques that allow patients to experience a simple and fast recovery, leaving them with a natural refreshed appearance and resuming their normal daily activities within a day or so. If you're looking for a skilled, experienced and innovative Orange County surgeon, please call H. George Brennan, M.D., F.A.C.S today at 949-945-6269.