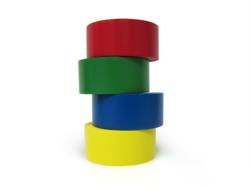 "We have been looking around for some type of floor marking that we could use in our Class 100 clean room. Thank you, Creative Safety Supply, for offering a floor tape specifically for clean rooms!"
Lake Oswego, OR (PRWEB) June 24, 2013
A clean room is a controlled environment where products are manufactured. It is a room in which the concentration of airborne particles is controlled to specified limits. A Class 100 clean room is designed to never allow more than 100 particles (0.5 microns or larger) per cubic foot of air. When these types of rooms require marking of aisles and floor designs, clean room floor tape offered now through Creative Safety Supply is the product specifically designed for clean rooms.
Clean room floor tape is available in red, green, blue, and yellow. Width size availability is ¼ inch to 4 inches and 108 feet long making it ideal for marking floors in small and large spaces. This product is constructed of non-particulate material on a plastic core suitable for use in Class 100 clean rooms.
Businesses that are successful are ones that follow 5S standards creating a facility that is lean and organized. Floor tape helps maintain organization and lean productivity by clearly defining aisles for walking or locations for equipment and materials. Floor taping can also help increase safety when forklift and pedestrian traffic are clearly marked and separated from one another. Fewer accidents equal to more productivity and lower compensation costs for the company.
When typical floor tapes and painting is not an option in a controlled environment, Clean room floor tape will get the job done easily and quickly. Installation can be completed in less than an hour depending on the size of room being marked. A business owner commented, "We have been looking around for some type of floor marking that we could use in our Class 100 clean room. Thank you, Creative Safety Supply, for offering a floor tape specifically for clean rooms!"
For more information about Clean Room Floor Tape, please visit Creative Safety Supply or call toll-free (866)777-1360 to speak with a professional representative.