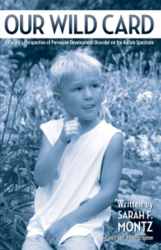 an inspirational portrait of the effects an Autistic child has on a family, positive and negative.
Centerville, Ohio (PRWEB) June 21, 2013
Sarah Montz knew that her middle son, Travis, was different from his older brother, but she had no idea how much her life would change when he was diagnosed at the age of 3 with Pervasive Developmental Disorder- Not Otherwise Specified. With this diagnosis, the family set off on their journey through physical, behavioral, occupational and speech therapies, relayed in this new book. Their beloved child was labeled and judged by people unfamiliar with the diagnosis, and Sarah found herself increasingly overwhelmed as she tried to manage her three sons and the myriad of appointments required to keep Travis on track.
With love and support from her family, Sarah finally came to terms with the diagnosis and the ups and downs that came with it. She shares the joy that Travis's laughter brings to the household, and the terror and anxiety when his disorder leads him to sneak out of the house, wandering the neighborhood unbeknownst to her. With tremendous hard work and determination, Travis has come further than his therapists ever thought he could. "Our Wild Card" is an inspirational portrait of the effects an Autistic child has on a family, positive and negative.
Author Sarah Montz's anecdotes will make readers laugh and cry in turn, and potentially lead to a new understanding of this baffling disorder. Montz attended Park University and received a bachelor's degree in business management. She now lives outside of Dayton, Ohio, with her family. This is her first book.
For additional information, please visit http://www.ourwildcard.com.
Our Wild Card
Sarah F. Montz
Dog Ear Publishing
ISBN: 978-14575-2005-1
140 pages
$12.95 US
Available at Ingram, Amazon.com, Barnes & Noble and fine bookstores everywhere.
About Dog Ear Publishing, LLC
Dog Ear Publishing offers completely customized self-publishing services for independent authors. We provide cost-effective, fast, and highly profitable services to publish and distribute independently published books. Our book publishing and distribution services reach worldwide. Dog Ear authors retain all rights and complete creative control throughout the entire self-publishing process. Self-publishing services are available globally at http://www.dogearpublishing.net and from our offices in Indianapolis.
Dog Ear Publishing – self-publishing that actually makes sense.