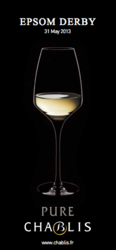 (PRWEB UK) 21 June 2013
Creative marketing company Graphic Evidence recently enjoyed producing various promotional materials for Chablis wine, commissioned by Sopexa. An invite, menu, wine tasting book, wine tasting table mat and placement cards for the Chablis promotions were created for the Epsom Derby.
Sopexa commissioned Graphic Evidence's team of graphic designers to follow-on the promotional design work completed for them last year for the Wimbledon Tennis Championships with new developed designs for the Chablis promotions at this year's Epsom Derby in May.
The Graphic Evidence graphic designers designed limited edition Chablis event invitations, seating cards, lunch menu, a 12-page Chablis wine tasting wirobound booklet and a special wine tasting table mat. All of the designs were beautifully printed and presented to Sopexa for the Chablis promotions at the Epsom Derby.
Eleanor Holland of Sopexa kindly said: "The work Graphic Evidence completed for us for this high profile event was outstanding. Not only were the designs exactly the sort of look we needed, but their commitment to the project was excellent. The team were always happy to accommodate us and committed to getting the results we wanted for this project. The sort of design agency you can really rely on!"
Graphic Evidence has been privileged to work with various agencies in the drinks trade and enjoy producing the stylish and quality design work associated with the industry.
As a full-service creative marketing company, Graphic Evidence offers a wide range of services including print design, branding, web design, packaging design and public relations.