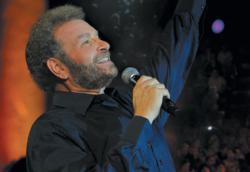 Dudu Fisher was wonderful. What a range when he sings. You feel like he is singing just for you. Amazing!
Branson, Missouri (PRWEB) June 20, 2013
Branson Ticket & Travel
Dudu Fisher, a seasoned Broadway and international star, returns to Branson in the fall of 2013 to share his intriguing story of "Jerusalem" and its people in an exciting production at Branson's Caravelle Theatre.
To purchase tickets to this show click here.
The engaging narrative of the Holy City of Jerusalem, the capital of the state of Israel, features Fisher's famed seasoned vocals backed by world-class musicians that highlight the enchanting songs, stories and visual effects presented by Fisher.
Dudu Fisher is known throughout the world for his stirring performance as Jean Valjean in the award winning show "Les Miserables". However, his career began in his native country of Israel many years before.
He sang the role of Moses in the Hebrew version of Stephen Spielberg's "The Prince of Egypt", performed with the Israel Philharmonic Orchestra, recorded an album of show tunes with the London Symphony Orchestra and has also been featured with the Baltimore and Queen's Symphony Orchestras.
During his long career, Fisher has recorded 38 albums.
Fisher has also been a guest performer for Britain's Royal Family, Thai Royal Family as well as President and Senator Clinton. From the Opera House in Sidney, Australia to Madison Square Garden in New York City, the Budapest Opera House to the Bolshoi Theater in Moscow, and appearances in Singapore and Sao Paulo, Dudu Fisher continuously travels the world bringing his unique talents to millions.
Dudu Fisher's Branson schedule begins October 15 and concludes on November 23, 2013 with 8 PM shows on Tuesday, Wednesday, Thursday and Saturday with 2 PM Matinees on Fridays.
For additional information and reservations, contact: 1-800-432-4202 or click here.