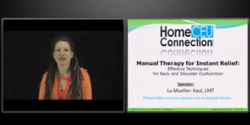 [Lu] brings a wealth of knowledge on various clinical subjects, as well as on business and marketing for massage therapy. We're thrilled to count her as one of our presenters.
Plano, TX (PRWEB) June 25, 2013
HomeCEUConnection.com, NCBTMB approved provider of online continuing education for massage therapy professionals, continues rapid expansion of their selection of online courses with several new offerings from Lu Mueller-Kaul, LMT, MA. The new premium Seminar-on-Demand courses provide up to date information on multiple topics, directly driven by Lu's successes in the field of massage therapy. These courses are available for purchase now in the HomeCEUConnection.com course catalog.
"Lu is not only an amazing massage therapist, she's achieved great success as a business owner", offers Anne Osborn, owner of HomeCEUConnection.com. "She brings a wealth of knowledge on various clinical subjects, as well as on business and marketing for massage therapy. We're thrilled to count her as one of our presenters."
Lu's four new courses offer up to date information that massage therapists can put into action immediately. Her first two course are of a clinical nature, exploring techniques for neck and shoulder dysfunction and common orthopedic "myths". "Manual Therapy for Instant Relief: Effective Techniques for Neck and Shoulder Dysfunction" takes a good look at strategies that Lu has developed to provide relief for patients seeking immediate relief from discomfort. "A patient will be more compliant about exercises and happy to come back for more treatments if their therapist can give them better range of motion and pain relief with the first visit", she explains.
In "Orthopedic Mythbusting", Lu draws on the research of an author that she has great respect for, Paul Ingraham. "[Paul] presents medical research in a way that's easy to understand in a series of lengthy essays.", Lu explains. "If you lack the time (or the inclination) to read all of his essays, this class is a perfect alternative."
With over a decade of experience establishing and running a successful massage therapy clinic, Lu is uniquely equipped to create business focused continuing education courses specifically designed for massage therapists. Her "Real Life Ethics: True Stories and Examples from the Massage Practice" course offers advice and guidelines on ethics for massage therapists, particularly those who work primarily as contractors. "Ethics courses are often so dry that it is hard to see the necessity of a firm code of ethics", she says. This snappy two hour course offers many examples and advice to help therapists learn how to develop and refine their own rules and guidelines.
Lu's fourth course fills a need that is rapidly rising in importance for independent massage therapists: Social media marketing. "Massage therapists often start small businesses. They build it, but nobody comes", she explains. "Unfortunately, massage schools don't prepare therapists for the challenge of marketing a small business". Lu shares her strategy for success with "Social Marketing 101" which explains what "Social Marketing" is, and teaches therapists best practices to use to help build a successful business.
Lu Mueller-Kauls courses and many more online massage therapy continuing education courses can be found for sale in the HomeCEUConnection.com catalog. HomeCEUConnection.com is an NCBTMB approved provider. Information on approvals can be found here.
About HomeCEUConnection.com
HomeCEUConnection.com offers CEUs for Massage Therapists, Physical Therapists, Physical Therapist Assistants, Occupational Therapists, Occupational Therapist Assistants, Speech Language Pathologists, Athletic Trainers and Certified Strength and Conditioning Specialists that are convenient, affordable and user-friendly. We specialize in premium text and video based courses that adhere to a strict triple-verification approvals process.