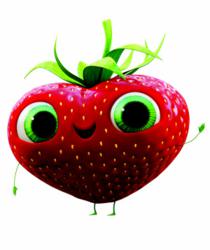 Watsonville, CA (PRWEB) June 26, 2013
California Giant Berry Farms is teaming up with Sony Pictures Animation, Feeding America, the nation's leading hunger relief organization, and some of the leading growers in the fresh produce industry for a groundbreaking campaign in conjunction with the highly anticipated release of the animated comedy Cloudy with a Chance of Meatballs 2. As one of the most notable cause marketing campaigns in fresh produce tied to a major film release, this collaboration will help provide thousands of nutritious meals to families in need.
As part of the collaboration, Sony Pictures Animation will lead the way with a cash donation to Feeding America. In addition, the participating food growers – including California Giant Berry Farms, Cal-Organic Farms, Duda Farm Fresh Foods, Grimmway Farms, and the National Watermelon Promotion Board – will donate over 80,000 pounds of fresh produce to Feeding America's nationwide network of food banks.
Consumers will have the chance to get involved as well, as specially marked packages of participating produce from these growers in supermarkets across the country will be tagged with Cloudy with a Chance of Meatballs 2 artwork and a QR code that will link consumers to Cloudy2win. There, consumers will find useful information – including recipes, information about the film, and how they can help by making a donation to Feeding America.
The campaign comes in time for Hunger Action Month, a month dedicated to raise public awareness of the more than 50 million people who struggle with hunger in the United States. Hunger Action Month, which takes place each September, brings together the Feeding America nationwide network of food banks and their 61,000 agencies – food pantries, soup kitchens and shelters – to urge individuals to take action in their communities and help fight hunger.
In addition, each purchase of specially marked packages of participating produce will give consumers the gift of a 3D movie upgrade (up to a US $3.00 value), downloadable coloring pages, downloadable screen savers, or a promo code for two 8" x 10" prints from Shutterfly. The campaign continues with the specially marked packages of participating produce in stores beginning in July and August, and culminates this September with Hunger Action Month and the release of the film in theaters nationwide on September 27.
"This opportunity is so unique and right in line with our commitment to cause marketing as an integral aspect of our business," commented Cindy Jewell, Director of Marketing for California Giant Berry Farms. "When Sony's promotion team contacted us, there was no doubt we wanted to be involved. It's a powerful message to have multiple products in the produce department supporting Feeding America and promoting healthy eating," she added.
Commenting on the announcement, George Leon, Executive Vice President, Global Consumer Marketing, said, "With September being Hunger Action Month, we really wanted to find a way to make a difference and use food to do that. Cloudy is a fun adventure film, but ultimately, it's about an inventor trying to make the world a better place through food. That's why we're thrilled by this collaboration – it's a great way for us to give back and to tie the message of our movie into a wonderful charitable effort."
"To help impact their present and future health, all children regardless of their circumstances need access to fresh fruits and vegetables. With so many families struggling to make ends meet, we feel compelled to help Feeding America by supporting Hunger Action Month and donating fresh fruits and vegetables to their network of food banks," said Dan Duda, President/Chief Operating Officer of Duda Farm Fresh Foods. "We are carrying out our family's 87-year commitment of giving to those in need."
"The National Watermelon Promotion Board is pleased to be working with Sony Pictures to help publicize their upcoming film Cloudy with a Chance of Meatballs 2. We feel that this combination of cause-related marketing and retail-oriented promotions aimed at families and children is right in step with the Watermelon Board's efforts to increase the availability and consumption of healthy, affordable produce," said Gordon Hunt, Marketing & Communications Director.
"There is no better way to support this cause than to join industry leading companies in an effort to find solutions for domestic hunger," commented Bob Borda, VP Marketing for Grimmway Farms. "Hunger is an epidemic in this country, but through our efforts, and the efforts of many, we will help bring nourishment to those in need."
"We had such a great experience with Sony on the first Cloudy film – not only was it a wonderful opportunity to increase awareness of the issue of hunger and support the film, but it was also incredibly successful. So when we found out about the sequel, we were delighted to be included again in an even bigger way. With more than 50 million Americans – including nearly 17 million children – at risk of hunger, the fight for hunger-relief continues. This promotion is a great platform for us to spread the word about Hunger Action Month and put more healthy produce on tables across the nation," said Leah Ray, VP Corporate Partnerships at Feeding America.
Cloudy with a Chance of Meatballs 2 picks up where Sony Pictures Animation's 2009 hit comedy left off. Inventor Flint Lockwood's genius is finally being recognized as he's invited by his idol Chester V to join The Live Corp Company, where the best and brightest inventors in the world create technologies for the betterment of mankind. Chester's right-hand-gal - and one of his greatest inventions – is Barb, a highly evolved orangutan with a human brain. It's always been Flint's dream to be recognized as a great inventor, but everything changes when he discovers that his most infamous machine (which turns water into food) is still operating and is now creating food-animal hybrids – "foodimals!" With the fate of humanity in his hands, Chester sends Flint and his friends on a dangerously delicious mission – to battle hungry tacodiles, shrimpanzees, hippotatomuses, cheespiders and other food creatures to save the world again! Directed by Cody Cameron and Kris Pearn. Screenplay by Erica Rivinoja and John Francis Daley & Jonathan Goldstein. Story by Phil Lord & Christopher Miller and Erica Rivinoja. Inspired by the book Cloudy with a Chance of Meatballs written by Judi Barrett and illustrated by Ron Barrett. Produced by Pam Marsden and Kirk Bodyfelt.
About California Giant Berry Farms
California Giant Berry Farms grows and ships over 20 million trays of berries annually (200 million pounds). A privately held company based in Watsonville, California, the company produces strawberries, blueberries, blackberries and raspberries and encompasses all aspects of the growing, handling and shipping of fresh berries. The management and employees know the future depends on the actions of today and places concern for the environment, food safety, excellent quality and service at the core of their business. For more information, please visit California Giant Berry Farms.
Media Contact:
Cindy Jewell
Director of Marketing
cjewell(at)calgiant(dot)com
(831) 728-1965 ext. 258
About Sony Pictures
Sony Pictures Entertainment (SPE) is a subsidiary of Sony Corporation of America, a subsidiary of Tokyo-based Sony Corporation. SPE's global operations encompass motion picture production, acquisition and distribution; television production, acquisition and distribution; television networks; digital content creation and distribution; operation of studio facilities; and development of new entertainment products, services and technologies. For additional information, go to Sony Pictures Entertainment.
About Feeding America
Feeding America provides low-income individuals and families with the fuel to survive and even thrive. As the nation's leading domestic hunger-relief charity, our network members supply food to more than 37 million Americans each year, including 14 million children and 3 million seniors. Serving the entire United States, more than 200 member food banks support 61,000 food pantries, soup kitchens and shelters that address hunger in all of its forms. For more information on how you can fight hunger in your community and across the country, visit Feeding America.
Find us on Facebook at FeedingAmerica or follow our news on Twitter at FeedingAmerica.
Media Contact:
Lucio Guerrero
VP Communications
lguerrero(at)feedingamerica(dot)org
(312) 629-7219
About Grimmway Farms & Cal-Organic Farms
Founded in 1968, Grimmway Farms is the largest grower, producer and shipper of carrots in the world. Grimmway Farms is a produce industry leader in organic and sustainable farming practices and has been family owned and operated for over 40 years. Since 1984, Cal-Organic Farms has grown to be a leading grower of organic produce. Family owned and offering a full line of produce year-round, Cal-Organic Farms is a trusted organic choice. For more information about Grimmway Farms and Cal-Organic Farms, please visit Grimmway Farms & Cal-Organic Farms.
Media Contact:
Bob Borda
VP Marketing
bborda(at)grimmway(dot)com
(661) 845-5222
About Duda Farm Fresh Foods
Duda Farm Fresh Foods is a major grower, shipper and marketer of fresh citrus and fresh and fresh-cut vegetables with primary locations in Florida, California, Arizona, Georgia, Texas and Michigan. Duda Farm Fresh Foods is a wholly-owned subsidiary of DUDA, a family-owned, diversified land company headquartered in Oviedo, Fla. For more information, please visit Duda Farm Fresh Foods.
Media Contact:
Nichole Towell
Marketing Development Manager
nichole(dot)towell(at)duda(dot)com
(561) 804-1477
About the National Watermelon Promotion Board
The National Watermelon Promotion Board, based in Orlando, FL, represents 1,500 watermelon growers, shippers and importers. Through research, education and marketing initiatives, the Board is finding new ways to enhance market opportunities for farmers and to promote the nutritional, culinary and convenience benefits of watermelon. For additional information, visit National Watermelon Promotion Board.
Media Contact:
Stephanie Barlow
Director of PR & Social Media
National Watermelon Promotion Board
Phone: (407) 657-0261 x 202 or Cell: (321) 278-5580
Email: sbarlow(at)watermelon(dot)org
Blog: What About Watermelon
Like us on Facebook: Watermelon
Follow us on Twitter: All4Watermelon
Watch us on our YouTube channel: WhatAboutWatermelon
Find us on Pinterest: All4Watermelon
About Sony Pictures Animation
Sony Pictures Animation produces a variety of animated entertainment for audiences around the world. The studio is following its worldwide comedy hits – the 2012 monster hit comedy Hotel Transylvania, the 2011 hybrid live action/animated blockbuster The Smurfs, and the 2009 mouth-watering Cloudy with a Chance of Meatballs – with The Smurfs 2 in July 2013, and Cloudy With A Chance of Meatballs 2 in September 2013. Sony Pictures Animation, in conjunction with Aardman Animations, has produced two critically acclaimed feature films: the CG-animated family comedy Arthur Christmas; and the Academy Award® nominated stop-frame animated high-seas adventure, The Pirates! Band of Misfits. In 2007, Surf's Up also received an Academy Award® nomination for Best Animated Feature Film. The division, whose first feature film Open Season led to a very successful movie franchise, turned 10 in 2012. Sony Pictures Animation is an operating unit of Sony Pictures Digital Productions.
Website: Sony Pictures Animation produces
Facebook: SONYPicturesAnimation
Twitter: SonyAnimation
Tumblr: SonyAnimation
YouTube: SonyAnimation