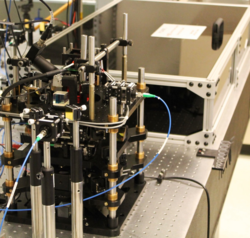 Boulder, Colorado (PRWEB) June 26, 2013
Bose-Einstein condensates will be produced in space using a system developed and manufactured in Boulder, Colorado. ColdQuanta has already supplied the Jet Propulsion Laboratory (JPL) with elements of its physics package destined to create Bose-Einstein condensates (BEC) in the Cold Atom Lab on the International Space Station (ISS). At the heart of the system, which simplifies and expedites the production of BEC and ultracold atoms, stands the RuBECi®, ColdQuanta's flagship product.
While ultracold technology is being used in a wide range of research applications ranging from quantum computers, atomic clocks, magnetometry, and other precision instrumentation this will be the first time that experiments involving ultracold atoms will be conducted in space. At a temperature of less than 1 microKelvin the atoms inside ColdQuanta's vacuum cell will still be several orders of magnitude colder than space itself.
"To have our products on the International Space Station is incredibly exciting for all of us" declared Rainer Kunz, CEO of ColdQuanta, Inc., He added, "We are honored and very proud that JPL has recognized our expertise as a supplier of ultracold atom devices and systems and we are thrilled to be a part of these unique experiments."
One of the primary goals of the Cold Atom Lab on ISS is to explore a previously inaccessible regime of extremely low temperatures where interesting and novel quantum phenomena can be expected. JPL will be responsible for developing the ISS payload.
ColdQuanta focuses on the development of BEC (Bose-Einstein Condensate), ultracold and cold atom generating devices and systems, allowing them to be accessible to a wide range of research, educational, and industrial institutions. Their products are intended for use in scientific and industrial applications requiring high performance and reliability. The company also provides custom engineering solutions to the cold atom and ultracold atom community. Please visit http://www.coldquanta.com for more information.