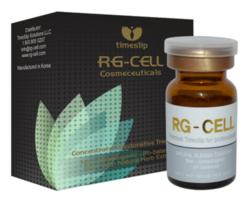 Las Vegas, NV (PRWEB) June 21, 2013
TimeSlip Solutions co-founders, Dr. Luiza Petre and Dean Miller are set to showcase their new technologically advanced, concentrated restorative RG-Cell skin serum and brand new Skin Booster at The International Esthetics, Cosmetics Spa Conference (IECSC) at the Las Vegas Convention Center.
RG-Cell will be located at booth #2822 from Saturday, June 22nd to Monday, June 24th. There will be complimentary treatments and live patient demonstrations throughout the event, including the introduction of the RG-Cell Skin Booster, airbrush technology with 15 messenger molecules and 36 natural ingredients that work to recreate the stem cells micro environment while supporting DNA repair and Synthesis. Dr. Luiza Petre will be on hand to explain the technology and ingredients behind RG-Cell.
The RG-Cell process is scientifically proven to reactivate dormant stem cells for effective skin rejuvenation and regeneration. Using Double-layered Nano-Encapsulation Technology, RG-Cell has effectively improved delivery into the dermal layers of the skin unlike ever before. The recently patented technology guarantees that the cosmeceutical penetrates deeply into the skin, reaching the basal layer where the stem cells reside.
"The formula awakens dormant stem cells, teaching them new tricks on how to differentiate, proliferate and migrate to areas of imperfect and aging skin," says founder Dr. Luiza Petre. "By stimulating fibroblast production of collagen, skin's firmness and elasticity increases while the appearance of fine lines and wrinkles are reduced for smoother, radiant and more youthful-looking skin."
Numerous studies have shown RG-Cell's carefully selected ingredients to be both safe and effective. No other product on the market uses a naturally derived combination of ingredients that is scientifically proven to support RG-Cell's claims.
The RG-Cell serum can be applied morning or night once to twice daily. Once a day is enough for continual use unless there are problem areas like scars or injured skin that needs accelerated healing in which case twice a day application is recommended. With once a day usage, a bottle lasts approximately 30 days.
The RG-Cell Skin Booster is applied in salons by a licensed esthetician. The high tech product of stem cell micro environment technology repairs DNA, rejuvenates aged dormant stem cells and mitigates young and healthy skin cells to replace old cells lost during cellular turnover. It evenly distributes the product and guarantees that the deepest layers of skin are reached.
For more information, please visit http://www.rg-cell.com.
###