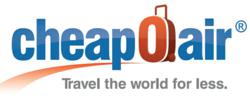 New York, New York (PRWEB) June 20, 2013
Leading travel website CheapOair has released their most booked domestic destinations to which people will travel for the Fourth of July weekend. Based on customer purchase patterns, CheapOair publishes travel trends comparing the top ten domestic destinations and the cost of airfare year over year, between 2012 and 2013.
Top Ten Destinations 2013 versus 2012
Chicago moved up to first place from fifth in 2012 and Orlando dropped from first to second this July. New York, Denver, Boston and Ft. Lauderdale all retained their standings at three, four, eight and ten. Washington moved up three spots to number six, held last year by Los Angeles which this July fell to seventh.
2013 Destinations
Chicago, IL
Orlando, FL
New York, NY
Denver, CO
Las Vegas, NV
Washington, DC
Los Angeles, CA
Boston, MA
Dallas, TX
Ft. Lauderdale, FL
2012 Destinations
Orlando, FL
Las Vegas, NV
New York, NY
Denver, CO
Chicago, IL
Los Angeles, CA
Seattle, WA
Boston, MA
Washington, DC
Ft. Lauderdale, FL
Cost of Airfare to Top Ten Destinations 2013 versus 2012
Year over year airfare to the top ten destinations varied, with an increase of 2% for New York and Washington, D.C. and as high as 13% for Orlando. Only airfare to Denver and Boston decreased a slight 1%. Travelers looking for the best deals will find them on travel to Denver, Ft. Lauderdale, and Dallas. Flights to Los Angeles averaged roundtrip $450, a 12% increase over 2012 and Orlando was still the number two booked destination, though its airfare had the highest increase, $308 to $347.
2013 Destinations Average Airfare
Chicago, IL $390
Orlando, FL $347
New York, NY $397
Denver, CO $312
Las Vegas, NV $376
Washington, DC $314
Los Angeles, CA $441
Boston, MA $377
Dallas, TX $336
Ft. Lauderdale, FL $317
2012 Destinations Average Airfare
Orlando, FL $308
Las Vegas, NV $342
New York, NY $389
Denver, CO $315
Chicago, IL $372
Los Angeles, CA $393
Seattle, WA $426
Boston, MA $380
Washington, DC $309
Ft. Lauderdale, FL $308
2013 vs. 2012
Destination Average Airfare
Chicago, IL 5%
Orlando, FL 13%
New York, NY 2%
Denver, CO -1%
Las Vegas, NV 10%
Washington, DC 2%
Los Angeles, CA 12%
Boston, MA -1%
Dallas, TX N/A
Ft. Lauderdale, FL 3%
CheapOair continues to analyze travel trends that keep both consumers and industry professionals informed about the latest developments in pricing and destinations. To learn more, visit http://www.CheapOair.com and follow CheapOair on Facebook and Twitter.
ABOUT CHEAPOAIR
CheapOair.com is a top travel website for millions of travelers who expect more for less. CheapOair scans over 450 airlines in seconds to return guaranteed low prices on flights, hotels, car rentals and vacation packages, making planning and booking trips easy and hassle-free. With 24-hour support by phone and live chat, award-winning apps for iPhone and Android, and travel tips on Facebook and Twitter, CheapOair makes affordable travel possible anytime, anywhere. Book travel on http://www.cheapoair.com or call 1-800-566-2345.
###