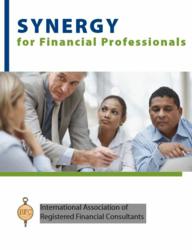 Whether you are an individual or business you owe it to the industry to ensure there are bright, energetic, and trained individuals coming behind us. This contest provides a way for you to meet this obligation. --David Stitt, Plan Competition Chair
Middletown, OH (PRWEB) June 25, 2013
To those who are experienced Financial Planners, part of their responsibility is to ensure that there are capable professionals advising the next generation of clients. To do that requires development and training of the next generation of advisors. The Financial Plan Competition organized by the IARFC, gives students enrolled in Financial Services Curriculum, the opportunity to learn by compiling a sample plan with real life data for critique and judging.
"All of us in any profession have an inherent responsibility to continue the legacies and skills of that profession." says Les Anderson, IARFC President. "My goal is to attract corporate and individual sponsors to ensure that our competition needs are met."'
The competition is limited to undergraduate students in Financial Planning Programs at US-Based Universities. Plans are submitted by a single student or teams of two or three people. Every plan is based on case data provided by the IARFC. Finalist teams present their plans in person. Final judging and award presentation will be held in Las Vegas, May 2-3, 2014. Financial Consultant professionals are invited to attend the presentations and become part of the judging process.
"I believe that no person ever achieves success without one hand up on the rung above him lifting themselves and one hand down lifting someone up," continues Anderson. "By pooling our assets we can encourage the next generation to do the right things for their clients."
To that end, opportunities of sponsorship - Silver ($50), Gold ($100), Platinum ($250) and Diamond ($500) are available on an individual level and $1,000, $5,000, $7,500, $10,000 respectively on the corporate level. Supporters are identified in articles in the IARFC Register magazine, listed on the website and promoted in media releases. Information regarding participation in this legacy driven program can be found on the IARFC website or download a sponsorship form.
Current Sponsors Include:
Corporate Level: Cetera Advisor Networks
Individual Level: Burnett Marus, Jeffrey Rattiner, Michelle Blair, Isabel Cooper, Frank Eberhart, Les Anderson, Steve Bailey, Ed Morrow, Rosilyn Overton, Jon Rogers, Lloyd Lowe Sr.